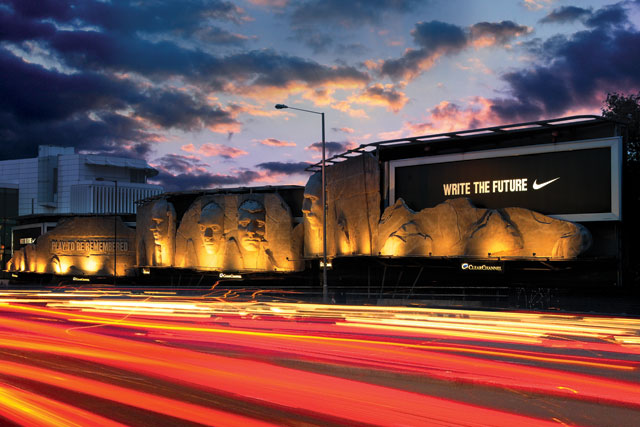 With a swiftness that will surprise most of us, the London 2012 Olympics will be upon us. A month from now, on Tuesday 15 March, tickets go on sale. On the same day, Olympic officials will assemble at a 6.5m-tall clock installed in Trafalgar Square to celebrate the launch of its 500-day countdown to the opening of the Games.
The giant timepiece will symbolise not only the arrival of the global sporting jamboree, but also the potential to reach consumers through out-of-home advertising. The starting gun for the Olympic scramble in this area will be fired this April, when sites are put up for auction on an online trading platform created by MediaEquals.
All outdoor formats that fall within Olympic Venue Cities (there are 20 venues, 11 in London) for the 12-week period from 25 June 2012 are currently held by the London Games organising body LOCOG. Official Olympic sponsors and partners have first refusal on the list of converted sites, including all 32 London boroughs, host cities, access routes to cities, airports and transport links to the Games.
Sites not optioned by sponsors/partners by July this year will be made available to the market. So-called Vicinity sites, in close proximity to Olympic venues, will not be made available to the general market - in the unlikely event that they do not sell, they will be blacked out during the Games.
Valuable association
Brands wanting to pick up any remaining locations, if there are any, would be well advised to be in a position to book them on 1 July. 'We have to assume that priority sites will be taken by sponsors,' says Kelly Williams, group business director for outdoor sports media agency Sports Revolution. 'However, marketers need to remember that sponsors and partners have priority only for the 12 weeks from June to September 2012. With the official countdown to the Olympics activated this March, this offers advertisers 14 months to tap into these locations and associate themselves with the run-up to the event. They could also be valuable (in) a "come-down" period if Great Britain does well in the medals.'
There are more than 240,000 out-of-home sites in the UK, so brands not officially involved in the Olympics will be able to run campaigns. It is simply a case of planning early to ensure quality of distribution.
Under the London Olympic Games and Paralympics Games Act 2006, each Olympic venue will have a small protected area where only sponsors can advertise, to guard against hijacks. Restrictions on the use of the Olympic symbol have been extended to visual representations of any kind, as well as the use of various words, including 'Games', '2012', 'gold', 'silver' and 'bronze', to clamp down on attempted ambush marketing.
'We expect the super-premium end of the market on key arteries and transport hubs to be sold to sponsors, for example the A4 from Heathrow to London and Oxford Circus Tube,' says Gideon Adey, business development director at outdoor agency Kinetic. 'The vast majority of space will remain available to non-sponsors.'
Only 35% of sites fall under the LOCOG agreement and, while it is natural for advertisers to want to dominate in London, it is important to remember that this is an event for the whole country.
As JCDecaux marketing director David McEvoy points out, key cities such as Birmingham and Edinburgh are not covered by the LOCOG agreement.
'There is a huge opportunity for brands to capitalise on this,' he says. 'Advertising for national brands such as sponsors Procter & Gamble or McDonald's will be equally relevant right across the country.'
Strategic thinking
Sponsors are, predictably, playing their cards close to their chests at this stage, but most will make significant use of outdoor. One, EDF Energy, sees London 2012 as a rare strategic opportunity to use the emotional power of the Games to inspire consumers to reduce their impact on the environment. This is the main focus of its partnership with London 2012 and related messages will feature in its activity.
EDF is running a 2012 Education Programme, intended to show children, teachers and parents how they can make real and measurable change by reducing their energy and water use. It is also working with Paralympics GB to help it become the first 'green' Paralympic team.
'We have a number of metrics in place to ensure that we are monitoring the impact of the initiatives to support our involvement with the Games,' says Gareth Wynn, group director, 2012 Programme, at EDF Energy. 'We also regularly use independent reports to evaluate the impact of our campaigns.' Another key measurable for its sponsorship of London 2012 is employee engagement: a competition to become a volunteer for the 2012 Games has, adds Wynn, proved popular.
CBS Outdoor managing director Mike Moran is keen to make the point that these Olympics are becoming known as the 'transport Games'. There will be plenty of opportunities at key London Underground stations and on high-profile bus routes for advertisers to take advantage of the predicted 1.3m-1.9m extra visitors in London during this period.
It is also expected that 40% of journeys to Stratford will be made via the new high-speed Javelin trains from St Pancras, so this is likely to be a key site. Major airports and the main M4/A4 corridor from Heathrow into London will be significant in reaching VIPs, athletes and visitors alike (see box). Meanwhile, Ocean's central London IMAX, the biggest outdoor site in Europe, is available to one advertiser for the entire period.
Analysis of five past Olympic Games by the Outdoor Advertising Association indicates that related outdoor revenue uplift averages more than 18% year on year. It's not unreasonable to presume the London Games will deliver a similar effect.
Live updates
Digital outdoor has come a long way from the days of 2006 when Sky had to scrap a campaign after two Clear Channel large-format digital screens malfunctioned when rain seeped into their cooling fans. Now, sites are more robust and offer greater flexibility. Some advertisers are likely to use these to deliver exciting news such as Usain Bolt breaking the 100m world record.
Nike has pioneered this approach, working with ad agency Wieden & Kennedy and digital production company Grand Visual on its 'Write the future' campaign, based on England's progress during last summer's football World Cup. This featured immediate post-match commentary from Nike's team at the agency running across nine digital out-of-home networks in the UK. Images and treatments were selected and copy entered into Grand Visual's OpenLoop system. This automatically reformatted and delivered the multiple versions to the relevant platform. Media was booked along commuter routes so that the campaign targeted people on their way home from watching the games.
'This facility will transform the medium during the Olympics, allowing advertisers to deliver tactical, dynamic campaigns that tap into the buzz and heightened attention from the public,' says Neil Morris, founder and managing director of Grand Visual.
Next summer the world will watch the athletes strive to meet the Olympic ideal of 'faster, higher, stronger'. It is a motto that advertisers may do well to heed in formulating their Olympic outdoor campaigns.
FIVE OF THE BEST
Cromwell Road Domination
This huge spectacular Clear Channel site, which comprises six backlit 96-sheets, was made famous by campaigns for the Harry Potter and Green Hornet films and Nike's Mount Rushmore ad (pictured left).
A4/M4 Corridor
There are several impressive sites on the VIP taxi route to London from Heathrow. Ocean's The Two Towers are significant digital sites in terms of their size, location and flexibility. They are sold as a pair, but clients often use split copy. They can also be used to provide live updates. Further sites on this route include the M4 Torch (pictured), M4 Tower and Alfa Laval wrap. JCDecaux upgraded the M4 Torch last October, replacing its two digital screens with state-of-the-art LED ones.
The Stratford Digital Sail
A dramatic superstructure with a state-of the-art 96-sheet digital screen on a key commuter route on the border of the Olympic Park. The route is a traffic hotspot, allowing for a greater depth of communication. With a red branding badge and an LED clock in the bottom plinth, this is an ideal site for brands seeking to create momentum in the lead-up to 2012. Branding the entire sail will provide maximum impact.
Westfield Stratford City
Europe's biggest urban shopping centre, currently under construction, will house 300 stores and many outdoor opportunities amid its 1.9m ft2 of retail space. An estimated 70% of spectators will pass through en route to the Olympic Park venues. It will connect two major transport hubs - the Stratford regional station and Stratford International.
Rail
With 40% of visitors likely to arrive by rail, stations offer a major opportunity for brands. As has been seen in previous domination campaigns from brands such as Aviva (using wraps on tunnels, banners, digital and floor media), stations offer great creative flexibility.