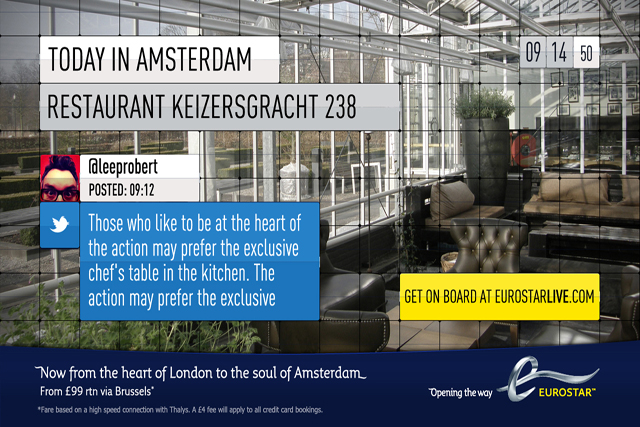 It was a fantastic 2013 for outdoor advertising. The medium now accounts for more than 10 per cent of display advertising revenue and advertisers continued to push the boundaries of outdoor, creating some of the most memorable campaigns ever.
Stunning creative and innovative use of technology, such as the combined use of mobile and outdoor technologies, helped create these beautiful campaigns. Wonderful planning is what connects a great campaign to its target audience.
Knowing who you want to reach and where to reach them is at the heart of brilliant advertising. The launch of Route, the NET measurement system for outdoor advertising, in early 2013, and insight initiatives such as Clear Channel's unique Ngen community, helped brands better understand outdoor audiences, which informed their planning decisions.
Armed with this insight, the past 12 months have seen brands finding new and exciting ways of using outdoor to connect with people.
Our eighth annual Outdoor Planning Awards, in association with Campaign and Haymarket Brand Republic Group, will celebrate the outstanding planning behind the best campaigns of the year – and there are so many that spring to mind. Some campaigns – such as Art Everywhere, which saw the outdoor industry come together to turn the UK into the world's largest art gallery – truly captured the imagination of people all over the world.
It's been an amazing year and I am excited to join our judges to look at the outstanding planning of outdoor campaigns of 2013.
---
The judges
Philip Smith chair of judges; head of content solutions and studio, Haymarket Brand Republic Group
Simon Andrews founder and chief executive, Addictive
Mike Baker chief executive, Outdoor Media Centre
Adam Foley head of strategy, Starcom MediaVest Group
Hamid Habib managing partner, OMD UK
Sarah Leach connections and media director for NWEN, The Coca-Cola Company
Nils Leonard executive creative director, Grey London
Jo Lyall joint head of client leadership, Mindshare
Andy Mackay UK commercial director, consumer electronics, LG Electronics
Chris Pelekanou commercial director, Clear Channel UK
Sally Weavers managing director, Initiative UK
---
2014 prizes and categories
The Grand Prize comprises £30,000 in advertising space for the winning brand and a luxury short break for the winning planner. There is a £1,000 cash prize for each category winner.*

Best Use of Digital in Outdoor
This category rewards best practice in terms of creativity, tactical messaging and engagement delivered through the flexibility of digital outdoor.
Best Use of Outdoor in a Multimedia Campaign
Rewarding the most outstanding cross-media strategy that clearly demonstrates outdoor working effectively with other media.
Best Use of Multiple Formats in Outdoor
This category recognises campaigns that show an effective use of two or more distinct outdoor formats.
Best Use of Continuitary in Outdoor
This category rewards planners who have used outdoor as part of their long-term strategy, to build a brand presence, increase reach or tell a story.
Best Use of Innovation in Outdoor
The winning campaign should show genuinely innovative thinking and planning. New collaborations and effective partnerships will be rewarded by the judges.
Grand Prize
The most outstanding of all the winning entries, in the judges' opinion.
* Full terms and conditions apply