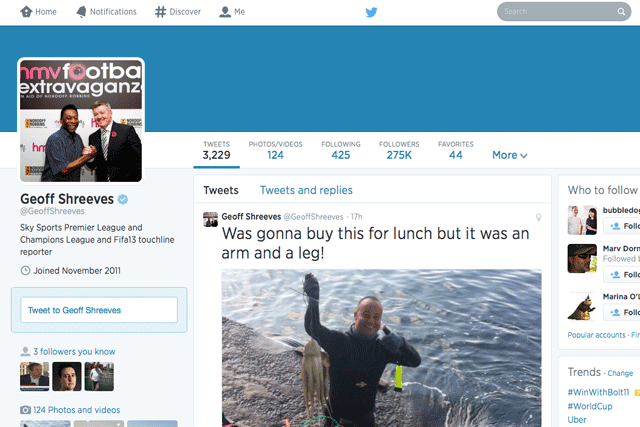 Shreeves' match predictions will also appear in Outdoor Plus' network of digital screens at 16 shopping malls across the UK, including Bluewater.
From today Outdoor Plus will screen Shreeves' tweets across its outdoor sites in London, including at the Euston Road underpass, at Vauxhall Cross interchange and City of London Gateway in Aldgate, during the morning and evening rush hours.
Shreeves, a touchline reporter for Sky News, will tweet tips throughout the World Cup tournament to the 274,000 followers of his @Geoffshreeves Twitter handle.
Outdoor Plus hopes the partnership will highlight the way brands can use social media on its digital screens to drive consumer engagement, which it said was vital because 80 per cent of Twitter users tweet while they are out of their homes.
Steve Atkinson, the commercial director at Outdoor Plus, said: "The Fifa World Cup is a global event and the most highly anticipated sporting tournament of the summer.
"We are proud to be bringing Londoners live predictions from an authority like Geoff, who has more than 20 years experience reporting on the most high-profile football matches and tournaments.
"We have the largest network of iconic roadside digital screens in the capital - ideally suited to delivering this timely message to a huge audience."
Fifa estimates that around 3.2 billion people will watch at least some part of the World Cup and that the final will have approximately 1.3 billion viewers.