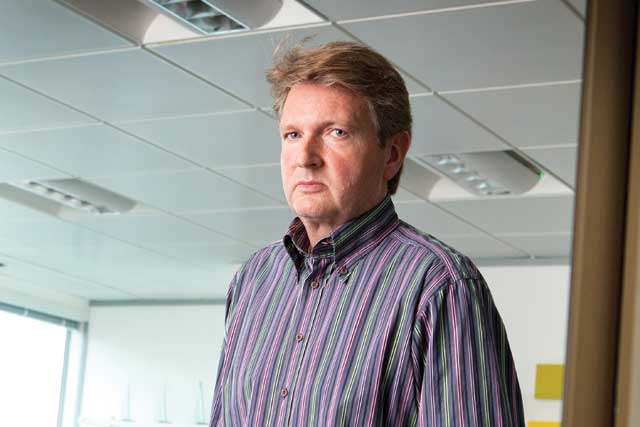 Roy Jeans, the chief executive of the outdoor agency formerly known as IPM, says he has created a swear jar for anyone - staff or guest - who forgets to call the shop by its new title. Unfortunately, the news has not filtered down to the building's receptionist, who does not recognise the name Rapport when Campaign arrives.
She must have missed the commotion last Monday when the IPM logo was chipped off and replaced. Out went the three-letter acronym and its blue branding, and in came Rapport, with a curved, r-shaped logo and a new colour. "The colour does have a number," Jeans says. "But I just call it purple."
International Poster Management broke out of Lowe Howard-Spink's Western Media as an outdoor specialist for Imperial Tobacco in 1988. As the industry progressed, the name IPM took hold. Jeans says that, since taking over in 2005, he has wanted to differentiate the agency from the "hundreds of three-letter companies".
The rebrand has not come from a need to separate the agency from a legacy, Jeans says, nor is it reflective of an overhaul of the business. The senior management team remains, including the managing director, Chris Marjoram, and the commercial director, Bob Stevens. "It's about developing the icing on the cake, adding an extra dimension to our services," Jeans says.
Its 40-odd staff helped choose the name Rapport and the tagline, "Rewarding connections", to demonstrate the importance of the agency's relationships. "It's about treating people the way you'd like to be treated," Jeans explains. He also argues that "poster management" is no longer reflective of what the agency does.
Jeans points to research presented by the Outdoor Media Centre last week that found outdoor was the advertising medium most likely to prompt mobile search. "Outdoor has moved from being a relatively static medium to become a nexus of mobile, online, near-field communications and augmented reality," Jeans says.
Part of Interpublic, IPM's success was traditionally linked to the group's media agencies Universal McCann and Initiative. Although both agencies have rallied in recent times, they faced difficulties when Jeans, a former managing director at Initiative, first took charge at IPM.
Rapport is no longer so reliant on its sister agencies due to a number of appointments direct from clients. This business now accounts for 75 per cent of Rapport's billings today, up from 20 per cent five years ago. However, the direct client BSkyB now dominates its billings.
If balancing agency and direct business is one key issue, competing against the other outdoor specialists is a second. Jeans estimates Rapport accounts for around 12 per cent of the UK's outdoor spend (others say it is smaller).
In comparison, Aegis Media's Posterscope and WPP's Kinetic can each boast around 40 per cent.
Jeans defends Rapport's position in the outdoor market: "What's Virgin Atlantic's share of plane journeys over the Atlantic? What's Audi's share of cars? Because of the nature of the market, people say we don't have market share - but we do have market share."
Developed due to the complexity of trading outdoor, and fuelled by the volume rebates paid by media owners, outdoor specialists remain a very profitable part of the industry.
There are lots of (usually anonymous) naysayers about the structure of the industry. Yet, last year, the Office of Fair Trading said it was not concerned by Kinetic and Posterscope's dominance. Jeans, for his part, will not be drawn on the market share of his competitors.
As befits his reputation as a "good egg", Jeans seems an honest man in a world that has not always been recognised for its integrity. With his bouffant hair and penchant for bright shirts, one former colleague expresses surprise that his looks have barely changed in 25 years.
"Roy is absolutely passionate about out-of-home," Alex Altman, the chief executive of Initiative, says. "He is someone who inspires you to invest in the media simply through his conviction. Roy is very client-oriented and he is able to place his media in the broader media and marketing context."
Although dedicated to outdoor, Jeans has the benefit of wider agency and sales experience at Zenith Media, Initiative and the regional sales business Amra. "We were two of the founding directors of Zenith and Roy always had amazing focus," Steve King, the global chief executive of ZenithOptimedia, says. "He's a very smart guy and very well-respected."
The story of Rapport can be told in two ways: a well-run bastion of virtue that has defied stronger competitors to punch above its weight, or a niche player within a 10 per cent medium that is outflanked by more innovative competitors.
The truth is probably somewhere in-between. Crucially, the people who work with the agency hold it in high regard. Indeed, holding on to the biggest outdoor account in the country (Sky) despite the best efforts of larger competitors is one of the highest-possible endorsements.
Jeans may seem a little old-school, yet his agency is anything but. With partnerships including a tie-up with the augmented-reality platform Blippar and clients such as Sky and Samsung, Rapport has a bright future. It could be even more interesting if Publicis, Havas or Omnicom ever decide to pull their outdoor advertising out of Posterscope or Kinetic.
THE LOWDOWN
Age: 55
Lives: Hampstead, London
Family: Wife, Lia; children, Gabriella (18), Edward (16) and Tasha (14)
Interests: Swimming and eating Maltesers
Favourite media: Silly question!
Favourite outdoor ad: "Labour isn't working" by Saatchi & Saatchi
Favourite book: The Fountainhead by Ayn Rand
Motto: Do unto others ...