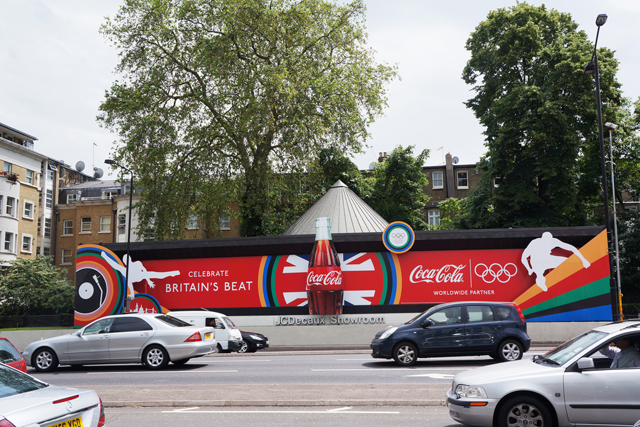 Outdoor advertising has emerged as a significant beneficiary of the London 2012 Olympic and Paralympic Games, growing its third-quarter income by 25 per cent year on year.
Spend on outdoor ads set a new record in the period, reaching close to £270 million, according to figures collated by the trade body Outdoor Media Centre.
Outdoor media owners earned revenues of £268.9 million between 1 July and 30 September, up 25.4 per cent on the same period in 2011. The total spend was £12 million higher than the previous quarterly record, set in the final three months of 2006.
The bulk of ad revenue growth was attributed to brand activity related - either directly or indirectly - to London 2012, including campaigns from sponsors such as McDonald's, Visa, Heineken, Adidas and Panasonic, as well as non-sponsors such as Nike.
Digital outdoor revenues totalled £52 million in the quarter, up by 69.9 per cent year on year. This figure accounted for 19.3 per cent of all outdoor revenues, digital's biggest-ever proportional contribution.
Mike Baker, the chief executive of the Outdoor Media Centre, said: "It has been a quite exceptional quarter. The industry has never seen so many dominations, wraps and spectaculars.
"Because all advertisers linked their creative to the Games, it made a continuous colourful canvas, which really unified London and brought the city to life."
Industry sources have suggested that growth is expected to slow during the final three months of the year.
Follow @MaisieMcCabe