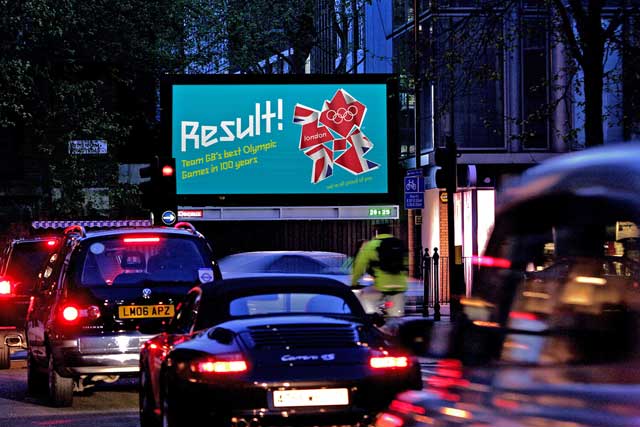 Anyone who has been holding their breath in anticipation of Postar 2 - an upgrade to the outdoor medium's audience measurement system - will, by now, be looking rather blue in the face. Expectations of its launch within a six-month timeframe have been in somewhat vague circulation for so long now that few can remember with any accuracy when its debut was originally planned.
Its launch was certainly imminent across the whole of 2011; and, as the new year dawned back in January, it was once again heralded with some confidence by industry insiders. The latest update is that stakeholders can begin playing with it next month (probably) and that a formal launch might take place in the autumn (possibly) - in other words, within a by-now-familiar six-month timeframe.
Postar 2 is a big project outlining, as it does, nothing less than the detailed out-of-home behaviour patterns of a whole nation and the consumption patterns of every conceivable form of outdoor advertising. Previous research has focused just on the sector's roadside poster formats.
So it could represent one hell of a giant step forward for the medium - and, as such, it's surely worth getting it right. Some schedule slippage, arguably, is inevitable.
But let's assume that it's on its way - and that it truly is the groundbreaking study that its fans argue it will be. All sorts of interesting things might actually follow. During her recent Media 360 presentation, Annie Rickard, the chief executive of the poster buying specialist Posterscope, said that it seemed inevitable now that the medium will move to a new form of trading - one that uses audiences rather than inventory as its basic currency.
In other words, a marketplace based on cost per thousand rather than on panels. This is hardly a new desire - but will it work? In UK outdoor, two buying points (and Posterscope is one of them) channel 75 per cent of all of the outdoor pounds spent, and four contractors take 75 per cent of all the outdoor pounds received. So, in contrast to more fragmented commercial markets, there aren't that many agents to convince. It's just about getting everybody on board.
Glen Wilson, the managing director of Posterscope, says that a move to an audience-based trading currency in the outdoor sector will be complex and challenging - but this certainly shouldn't be seen as a deterrent.
He adds: "The catalyst will be new outdoor audience data that will be more inclusive, in terms of environments, than ever before and based on the largest GPS survey of people movements ever undertaken. Is everyone in the industry on the bus? Certainly those who want to be part of the future."
And Spencer Berwin, the managing director, sales, at JCDecaux, tends to agree. If you are buying online media, you don't buy a number of computers, he points out. Similarly, if you are buying TV, you don't buy a number of screens. Yet outdoor still trades in numbers of panels.
He highlights: "This is why the outdoor industry has invested more than £19 million in Postar 2 to provide audience data that enables our clients to plan and buy their campaigns more effectively. JCDecaux is the biggest sponsor of Postar and we look forward to trading audience as soon as possible."
Meanwhile, Roy Jeans, the chief executive of Rapport, says that he supports the broad general principle of trading on audiences - but he also says he worries about the transition process. He explains: "What I think we would see is a period where people will still buy panels - but convert them to audiences using the new Postar data. Then we might see a situation where they buy audiences but convert them back to panels to make sure that everything is OK. I actually think we'll see a move to something resembling the newspaper market. Some sites will still have a price premium - even more so than at present."
And Tim Bleakley, the chief executive of Ocean Outdoor, points out that, while it's desirable for a communications platform to be assessed on the basis of its audience, that shouldn't close down debate about the future of trading.
He concludes: "The industry has been investing a lot in producing a robust new research currency - and that will certainly lend itself to different ways of planning. Yes, the industry should be more able to talk about audience and eyeballs rather than panels - but cost per thousand is not the only way of trading against audience."
YES - Glen Wilson, MD, Posterscope
"In the context of the contemporary media landscape, expressing the value of the outdoor audience in a way that can be more readily compared and contrasted with other media is surely desirable."
YES - Spencer Berwin, MD, sales, JCDecaux
"Greater precision in audience measurement, trading and accountability in out-of-home is about to start. If I were an agency planner, a media owner or even an auditor, I would be excited about the possibilities."
YES - Roy Jeans, chief executive, Rapport
"In cost per thousand terms, outdoor is very competitive with other media - and that could be viewed as an opportunity. But how we get there will depend on the good will of the major players. For instance, it will be crucial to engage the media audit companies."
YES - Tim Bleakley, chief executive, Ocean Outdoor
"You might plan in terms of cost per thousand but trade in a different way. There might be hybrid trading models. So, am I an advocate? Yes, I am. But I am also saying we should proceed with caution."