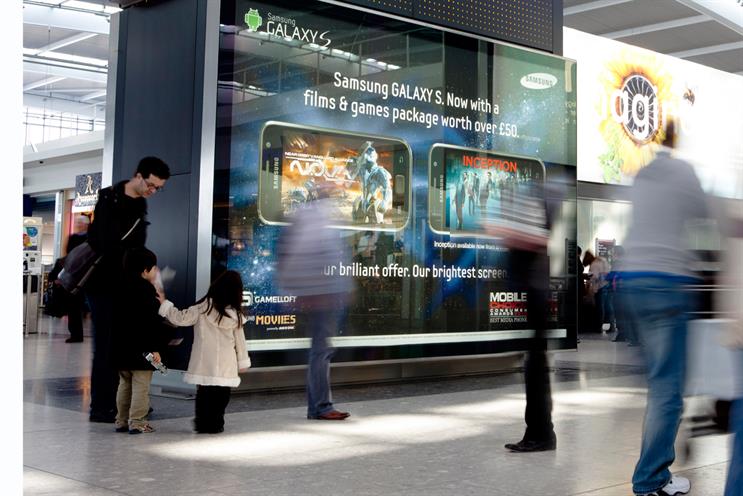 Of course, the £1 billion question as regards Route, the outdoor medium's new audience research product released to great fanfare this week, is whether it's likely to add further impetus to an already impressive growth story.
For decades, it has been outdoor's ambition to become a "10 per cent medium" – in other words, to take a tenth of all display advertising spend in the UK. Well, last year, according to new figures from the Outdoor Media Centre, it achieved this historic goal.
Revenues grew 9.5 per cent year on year to £971 million in 2012, giving outdoor a 10.3 per cent share of the display market. The OMC numbers are slightly controversial – they're almost £190 million higher than Nielsen's figures. Nielsen measures revenues channelled through outdoor specialist agencies; the OMC casts its net wider and includes all revenues arriving at the contractors.
But, still – the assumption now is that, having outperformed the market generally through an economic slump, the sector will be propelled on to even greater things as adspend begins to pick up. Topping the £1 billion revenue mark this year is now, surely, a minimum requirement.
Top-line figures show that, on an average day, people make eye contact with around 27 roadside posters and 14 bus ads; and every time you make a Tube journey, you're likely to encounter an average of 74 ads. The average distance travelled out of home is 241km per week. And a surprisingly high proportion of that is on foot – on average, we walk 15.2km a week.
The Route fieldwork involved 28,000 people each carrying a GPS meter for nine days as they went about their everyday business. The meters logged a location point every second, creating 19 billion data points. These were mapped against an inventory of 360,000 ad sites across the spectrum of formats, each of which had been accorded a "likelihood to see" factor.
Outdoor is the only medium with the bravery to start from scratch - James Whitmore, managing director, Route
It's one of the most impressive pieces of media research ever undertaken and certainly restates outdoor's credentials as an epic medium. Glen Wilson, the managing director of Posterscope, points out the fact that Route now offers data across all outdoor formats (its predecessor, Postar, covered just roadside posters) will help the sector sell itself.
Gill Reid, the co-chair at the IPA's outdoor media committee, agrees: "The launch of Route will allow us to take a great leap forward in proving what out-of-home delivers to clients across platforms and environments."
Longer term, though, it could help open up new opportunities. Some specialists argue that, in its depiction of a nation on the move, Route could help outdoor configure a symbiotic relationship with mobile advertising, the goal being to drive people (this is a horrible phrase, but there's really no avoiding it these days) into the "retail funnel".
One way or another, James Whitmore, Route's managing director, says, natural justice will be served if the medium is rewarded for its determination to throw out its old audience currency and produce something truly fit for the 21st century.
"All media have faced challenges in audience research, whether we're talking about the readership of newspapers on tablets or the viewing of television on devices other than television sets," he says. "They've tended to take existing research and bolt little bits on to it. Outdoor is the only medium with the bravery to start from scratch."