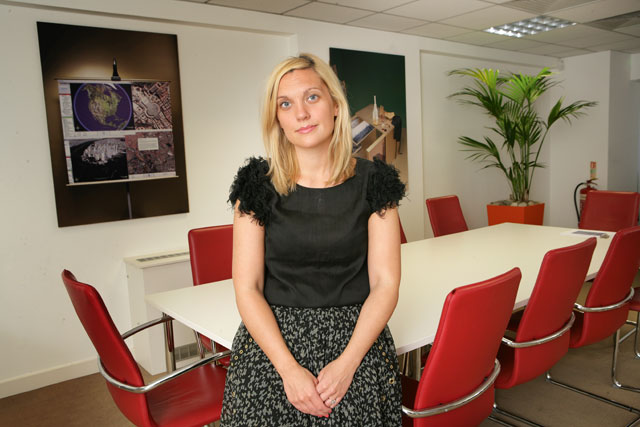 Ella d'Amato, the new managing director that Drum has brought in to replace the respected content veteran Mark Eaves, appears to be joining from a very unlikely quarter.
Aged just 29, and previously the new business and marketing director at OMD, it would be easy to assume that d'Amato is, at best, wet behind the ears and, at worst, knows absolutely nothing about content creation.
Added to that, her softly spoken manner gives the impression of a rather pretty folk singer rather than that of a ball-busting career woman, who will need to manage a business in a world dominated by a club of TV lags, all of whom know each other.
In her defence, d'Amato may be youthful, but she has been grafting since she left school at 16, having decided to eschew university. After working at Whitbread, she spent stints as a chiropractitioner and a trainee property licence conveyancer before moving to the media industry in 2005. Cynics could point out, then, that her career path displays a lack of consistency. In short, this adds to the general feeling that she looks like a complete outsider.
However, that wouldn't do justice to d'Amato, who clearly has amazing drive and, perhaps, the ability to beguile those around her. Having worked in new business for OMD for five years, d'Amato approached its managing director, Jonathan Allan, and Philippa Brown, the chief executive of Omnicom Media Group UK, to see if there was an opportunity for a greater creative challenge.
Brown, a big advocate of d'Amato, suggested she work on a strategic project with Eaves to help drive forward the Drum business. Coincidentally, Eaves himself was privately contemplating an exit, and when he eventually spoke out it made sense for Brown to consider d'Amato for the role.
Her age isn't really an issue either, given that Eaves was also given the top job aged just 29. As Brown says: "There's no age limit on being appointed a managing director. It's whether that person has the ability to do the job, and Ella has that ability. She's that brilliant hybrid of an amazing creative mind and a strong business sense."
And d'Amato also displays some understanding of her new charge - all the more impressive given that she has only spent six months on secondment there. While some could snipe that her appointment to the managing director position is one of blind faith by Brown, equally it might just be the manifestation of the "pioneering" pro-position that Drum has always stood for.
Founded in 1992, Drum occupied a special position at the time, somewhere between the spatial necessity of media and the vital hook of creative engagement. As its co-founder Laurence Munday says: "Drum was never about creating advertising. It was about creating everything but advertising."
A recent Drum project is a good example of this. The agency has brought a US gameshow to the UK because it slots in nicely with Cadbury's "spots vs stripes" campaign. Produced by Shine, Minute To Win It will be broadcast on ITV and part-funded by Cadbury, which will have sponsorship credits around the show and exclusive online content.
While Drum has continued to successfully plough an innovation-led content furrow, one sticking point is whether it can expand its client list outside of clients shared with its parent agency PHD.
This has been evident in the apparent confusion on its own branding - Drum PHD or Drum - since it launched. "It is now Drum," D'Amato says decisively. "I believe in one brand - it's easier for clients." Munday says Drum was always kept close to PHD as it was the agency's "crown jewel", but in recent years Drum has worked increasingly with advertisers from outside the group.
D'Amato says PHD's clients, which include Sainsbury's, Kraft Foods, Cadbury and McCain, are her priority, but adds: "When opportunities arise elsewhere, and we feel we're the best solution for that client, then we'll look into that."
A recent HP cinema campaign featuring the musician Plan B saw a tie-up with HP's media agency, M2M, and Drum. By coincidence, the campaign was planned by d'Amato's husband Sam, the board strategy director at M2M (the couple met while working at OMD).
Munday describes d'Amato's predecessor, Eaves, as a "talented guy who ran the business really well", and who over the years nurtured talent at the agency. "I don't know her, but I imagine she will be managing that talent, rather than getting her hands dirty."
And she claims not to be threatened by the fact her predecessor is setting up a company, Gravity Road, that will to some extent be a competitor. "All Mark is doing is highlighting the opportunity of content-led comms," she says. "Clients will see what he and (co-founder) Mark Boyd are doing and think there must be something in it."
As for her mild image, she says she refuses to change her personality to conform to the stern demeanour so many women feel they have to inhabit to get to the top. "When people work with me, they see I know the business," she says.
If you ask the people who have worked with and know d'Amato, they describe her by using the same words. She has boundless "enthusiasm", "energy" and "dedication".
She parts with a final slamdunk in defence of her fleeting time at Drum: "I'm still learning, but then everybody's still learning."
THE LOWDOWN
Age: 29
Lives: Lewisham, with husband Sam
Favourite hobby: Interior design
Reading: Hegarty On Advertising by Sir John Hegarty
Favourite media: In Style, Living etc, Elle Decoration and Wired
Can't live without: Chocolate and lemonade
Life mantra: Surround yourself with people you can learn from