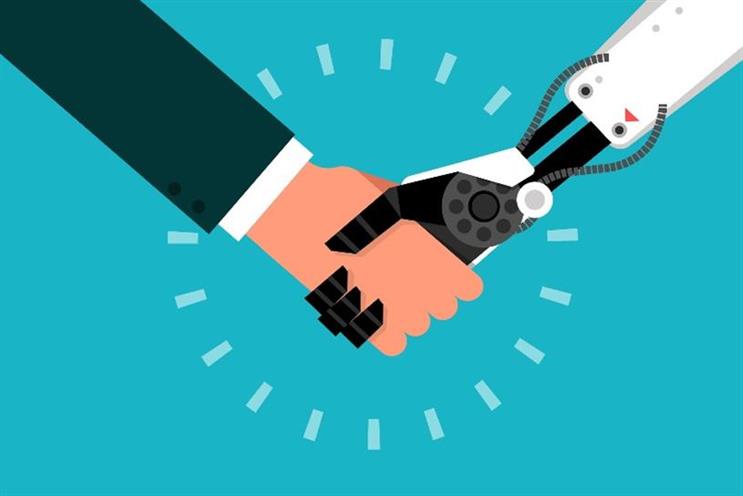 Agencies and brands must re-examine their data strategies as genomic marketing - which incorporates biology, DNA and emotions into technology and commerce - is poised to dominate, a new report has revealed.
Research by Sparks & Honey points to a fast-evolving future of personalization -- the backbone of which relies on extremely personal data harnessed by trust and transparency in a post-General Data Protection Regulation (GDPR) world.
"If you think reading emotions and incorporating genomics sounds like science fiction, just think again," said Camilo La Cruz, EVP of global futures at Sparks & Honey. "It's happening faster than you think, and if you don't have a strategy, you're definitely going to suffer."
The genomics startup sector doubled in 2017, according to the agency's "Truth, Trust and the Future of Commerce" report released today.
The research, conducted through in-depth interviews with leading experts in fields including neuroscience, A.I. and policy, as well as analysis of articles, search terms and research papers, found that investors and governments are pouring money into China's startup sector.
In 2017, the total funding received by all Chinese startups increased from $1.2 billion at the start of the year to $6 billion by the end of December. The funding includes investment across several industries such as enterprise services, healthcare and manufacturing.
The biggest companies in China are positioning themselves to become global leaders in smart city solutions, autonomous driving, conversational A.I. and predictive healthcare.
It is the investment of key technology players in genomics startups and intellectual property that will accelerate and disrupt the way we think about personalization across commerce, according to the study.
But startups aren't the only organizations looking for a piece of the genomic pie. The agency asks us to consider the foray of Google and Amazon into the genetics industry; Google is making genetics and genomics accessible and searchable, while Amazon is focused on the technology backend of the process. Both efforts will potentially enable organizations to incorporate genomics data into any aspect of the value chain. At the same time, companies such as Apple, Microsoft, IBM and Samsung have expanded their health-tracking technologies to arm consumers with their own biotech data.
As part of the study, Sparks & Honey spoke with Sensing Feeling -- a U.K.-based company focused on equipping any physical space with emotion-recognition technology. It works by picking up on certain buzzwords, connecting them to the cloud and an algorithm, which allows the device to understand emotional states. The firm's mission is to make technology more human by imagining a world in which people interact with a space smart enough to respond to our emotions and feelings in positive and ethical ways.
La Cruz predicts that there will be around 50 million installed voice recognition devices in the U.S. by the end of 2018.
But as this commerce continues to evolve, as must the approach to data.
"Commerce will be driven by our most intimate data and that raises the stakes," La Cruz continued. "Trust will become even more important and will be the difference between making and breaking an organization. People are going to be more and more wary of who owns what."
GDPR is just the beginning. Recent research by video ad-tech company Unruly revealed that the majority of consumers in non-E.U. countries would like at least one of the GDPR rules in be in effect in their country.
The new law kicked in on May 25 and applies to all E.U. citizens, but even companies in the U.S. or China have to follow the rules if dealing with E.U. citizens.
Among the changes include that future requests for consent of data sharing can't be hidden under reams of Ts and Cs -- they have to be clearly distinguished. Pre-ticked boxes can no longer be used to indicate consent, and making people hand over more personal information in exchange for extra features is also not allowed.
Early indications show that organizations who choose to ignore GDPR and do not grapple data protection by introducing some form of clarity with in-house regulation are at huge risk of suffering.
"Make a long-term plan to go beyond GDPR," warned La Cruz. "Think about how you can give people more control over their own data. Acknowledge the areas of blurred responsibility -- where the government is not fully regulating yet -- and take ownership."
And waiting for legislation at a Washington level may not pay off, as only 27 per cent of Americans trust their government institutions, according to Sparks & Honey's findings.
So how can organizations be best equipped to handle the future of commerce? Below are the study's suggested five steps:
---
Assess your data strategy against new and future data verticals
Think outside of your data box — consider data beyond demographics, media consumption, and self-reported customer data to a future that includes data from emotion states, genetics, smart homes and even smart cities. These will become the data sources for your future development of products, services, marketing and strategy.
Assume that (GDPR) is only the beginning -- prioritize plans to develop or upgrade data sovereignty policies, technologies, and practices
Data privacy and ownership is becoming a heated topic that will define how your organization can use data. Consider how you can help people understand and take ownership of their data with companies such as Mad Hive that view data privacy as a human right, and use that as a starting point to re-evaluate your data policies.
Secondly, understand that new generations are much more aware of the value of their own data, so assume that you have a responsibility to meet their perceived value in equal terms.
Acknowledge the blurred responsibilities of your organization and take ownership of initiating dialogue with stakeholders in the public arena
Consumers expect you to be responsible in a way that extends well beyond typical cause marketing or checking the box on social corporate responsibility. This new era of responsibility means having a role in areas that have a direct impact on your world, such as building schools and parks or decreasing your carbon footprint. Acknowledge your role and responsibility and spearhead communications with all stakeholders, including the public.
Embrace your role as an infrastructure architect
Where institutional trust is eroding, your organizations can step in to rebuild and instill confidence in the functions of a society, and by association, the consumers it serves. In return, acting as infrastructure architects is a means of not only building confidence in the functions of society, but instilling trust in your organization.
Develop verification strategies to counter manipulated realities enabled by technology that affect your business and the lives of all of your stakeholders — customers, employees, your community and others
Empower your organization and customers with strategies and authentication tools that allow for radical transparency in every facet of the supply chain. The effects of a fragmented and manipulated reality can have a direction influence on everything from your reputation as an organization to marketing, distribution, and the provenance of your products and services.