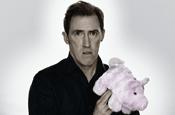 Created by Rainey Kelly Campbell Roalfe/Y&R as part of the charity's "Be Humankind" campaign, Oxfam is asking the public to visit its website and write a strapline that they hope will inspire the nation to help end poverty.

The best contributions will then be uploaded to interactive billboards across London within 24 hours.

Each contributor will be notified so that they can go and see their work displayed on the billboard in person.

Nick Futcher, the brand manager for Oxfam, said: "We want people to tell us how they think the world needs to change, and these adverts offer a blank canvas for them to express that as creatively - and publicly - as possible."