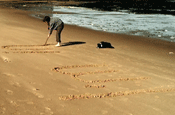 The account has been held by All Response Media for three years but Oxfam confirmed that it has opened discussions with other agencies. All Response will repitch for the business.
Oxfam's media review coincides with a pitch to appoint an ad agency to handle its annual winter fundraising campaign and to promote its gifts catalogue Oxfam Unwrapped. DraftFCB, Oxfam's direct marketing agency, is unaffected by this review.
The bulk of Oxfam's above-the-line spend is focused on press and TV activity. In addition, it organises a range of youth marketing activities including its music event Oxjam, which links with youth volunteering charities and broadcasters including MTV.
An Oxfam spokeswoman said: "We are asking agencies to pitch at the moment and that includes the incumbent."