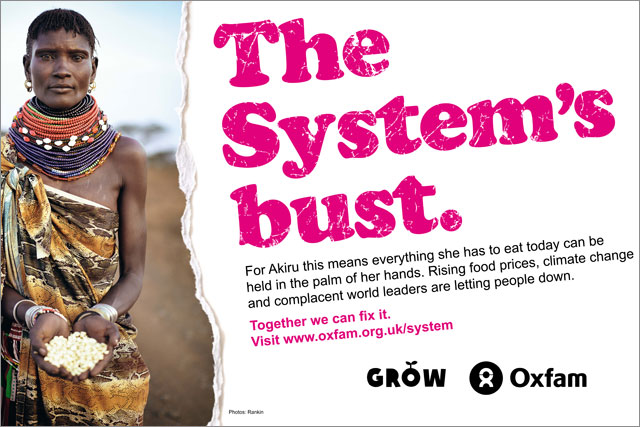 With a brand identity created by Wolff Olins, 'Grow' spans digital, print, poster and social media and will run for four years in 45 countries. It is designed to support Oxfam's 'Growing a Better Future' strategy, which calls on international governments and businesses to reform the global food market.
The campaign, which kicks off tonight with the debut of a film created by fashion photographer Rankin that will be hosted on YouTube.
The campaign deliberately adopts a positive tone - hence its title 'Grow' - after research found that consumers were more receptive to an upbeat message. This represents a change in tack for Oxfam - as well as charity marketing in general - which tends to highlight the plight of victims of poverty.
While Wolff Olins is behind the global aspect of the campaign, Oxfam is using myriad agencies to adapt work for individual markets; including RKCR/Y&R in the UK, which has developed creative under the banner 'The System's bust'. Dig for Fire is working on digital elements of the campaign.
Some of the work produced by Wolff Olins includes posters bearing striking two-tone purple and green typography. The bold copy headline reads "Grow. Table for nine billion" and is followed by the words "Food. Life. Planet."
Robert Jones, brand consultant at Wolff Olins who leads its Oxfam account, said: "We are very proud of 'Grow', a game-changing campaign that is the first of its kind to frame global food issues in a positive context – that there can be enough for everyone in the world if we make practical positive changes in how we produce, consume, share and manage our resources."
Wolff Olins was appointed to Oxfam's roster last year, with a brief that included a single international identity for the charity. Oxfam's relationship with RKCR/Y&R was unaffected by the appointment.
Other celebrities endorsing the campaign include actress Kristin Davis, supermodel Helena Christensen and TV presenter Zoe Ball.