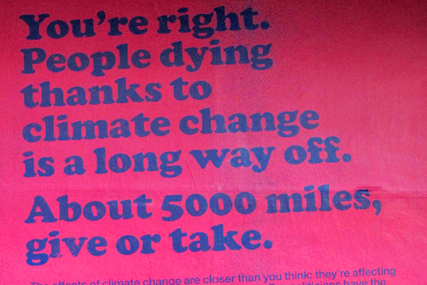 The poster ad, published in October 2009, was created by RKCR/Y&R and attracted four complaints who questioned its accuracy.
The poster ad stated: "People dying thanks to climate change is a long way off. About 5,000 miles, give or take...Our politicians have the power to help get a climate deal back on track...Let's sort it here and now."
The complainants argued that Oxfam could not prove that people were dying as a result of climate change.
In its defence, Oxfam said research had been published by reputable bodies, like the World Health Organisation (Who), and The Lancet medial journal, which showed that people had died – and were currently dying – because of climate change.
In particular, they picked out three Who publications that backed up the charity's claim.
The advertising watchdog took into account statements issued by national and international bodies with expertise in climate science, concluding there was a "robust consensus" that there was strong evidence for human induced climate change.
Additionally, it noted that Oxfam had supplied a Who fact sheet, published in January 2010, which stated: "Globally, the number of reported weather-related natural disasters has more than tripled since the 1960s. Every year, those disasters result in over 60,000 deaths, mainly in developing countries."
In its ruling, the ASA took into account that Oxfam's statement in the ad was "reasonably restrained" in that it did not numerate the number of deaths attributable to climate change.
Because of Oxfam's restrained approach, coupled with the consensus that there was extremely strong evidence for human induced climate change, the watchdog judged that no further action was required.