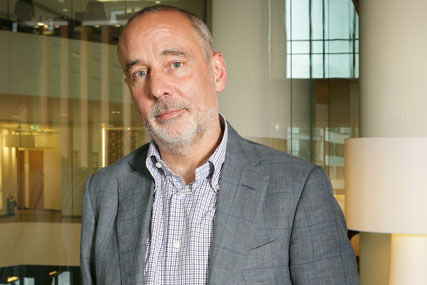 This morning at the Oxford Media Convention Hunt set out his vision for a national channel with guaranteed opt-outs for local broadcasters, inviting media companies to suggest how they would make it work.
After his speech Hunt was questioned by BBC chief operating officer Caroline Thompson. She asked whether his department had modelled the impact it was going to have on commercial television.
While expressing thanks to the BBC for pledging to finance some of the upfront capital costs of local TV, Hunt said any potential impact would emerge during a planned consultation process.
He said: "If you look at the advertising market at the moment, the reason we've gone for this structure is that we recognise that in the early days it will be necessary for local TV franschises to tap into national TV advertising and that's why we said that there needs to be a national spine that will provide national content for 21-hours or so a day and sell national advertising for 24-hours a day."
"The local affiliates would have the ability to sell local advertising in their patch to top that up. Whether that impacts on the broader ecology in part depends on whether that national spine is provided by a current provider that's already in the market, or by a totally new provider and also if it were a new provider it would depend on what that new provider's concept is, whether they are expecting to sell a large amount of national advertising or whether they are expecting the advertising to be predominantly local."
At a later panel session there were a number of sceptical responses to the idea, balanced by enthusiasm from local television companies such as Channel Six. Tim Brooks, managing director of Guardian News & Media said the idea that the network could be commercially viable was "sheer fantasy".

He said: "Let's be real. The largest television company in Europe [RTL] couldn't make enough money out of Channel Five, the third network to make a go of it.
"I think the idea that there's room in this market for a fourth network whose peaktime would be occupied by the kind of low grade programming that the panel discussed is sheer fantasy.
"That's why you won't see Jeremy Hunt bowled over in the rush of people with money wanting to get involved in his project."
Paddy Barwise, a panellist and emeritus professor of management and marketing at the London Business School, said: "I'm pretty sceptical about the commercial viability [and] the public benefit … I would expect it to generate a low level of viewing."
He said his understanding was "the channel would need a programme budget equal to or greater than Channel 5's in order to get enough national advertising to create a big enough subsidy to make the local opt-outs viable and that would, if it happened, make a significant impact on the existing broadcasters".
Sly Bailey, chief executive, Trinity Mirror, also poured cold water on the proposals. Bailey said her company would study the plans but she had heard nothing to change her mind about local TV's lack of appeal.
Bailey, in response to a question from the floor, said: "[Getting involved] in a 10-way joint venture that doesn't make any money is not the most exciting prospect."