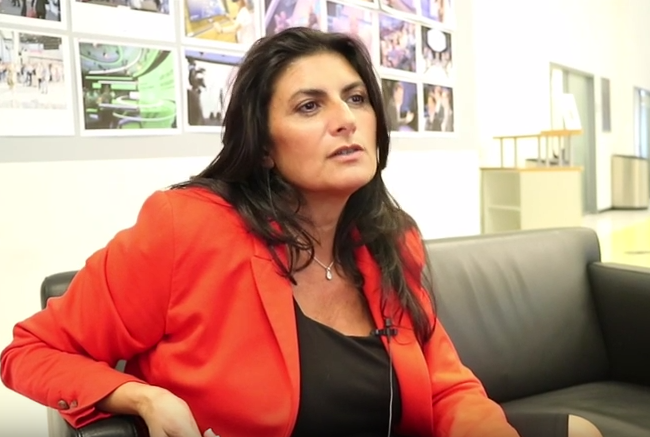 "If we do a proper job on consumer understanding and brilliant advertising, this will solve itself," Blum said in response to a question about the challenge of ad-blockers. "That's why my call to action is to raise the bar. Without any hesitation if there is one thing the whole industry needs to focus on it is deep consumer understanding."
She adds that she "absolutely" believes advertisers are capable of raising the bar sufficiently so that ads consumers actively seek out – such as the celebrated "#LikeAGirl" campaign for Always – become the norm, rather than the exception.
Blum was speaking at a panel session at Dmexco on "The content marketing pitfall", at which she argued that creating good content was a mixture of art and science. "It's about the science of putting together multiple sources of numbers and information, and it's an art to leverage consumer insights in order to create masterpieces of advertising," she said.
This means having a deep understanding of your consumers, she explained, and the capability to transform that understanding into a "creative canvas" on which the brand is painted – an idea referred to in the past by P&G chief marketing officer Marc Pritchard.
Each day as important as the last
Failing to stay relentlessly focused on consumer understanding is also where the biggest potential threat to P&G lies, said Blum, thanks to the nature of the sectors in which it operates.
"It's the beauty of fast moving consumer goods, and also the biggest threat: daily usage," she said. "You miss a day in understanding your consumer better than anyone else, you take a huge risk on your business."
A less charitable commentator might suggest P&G has, in fact, taken its finger off the pulse in recent years with regards to one of its most important brands, Gillette, as online subscription razor services have taken chunks out of its market share. Earlier this summer, rival Unilever acquired the biggest of these new entrants, Dollar Shave Club, for $1bn.
Gillette only launched its own shaving subscription club last year, but Blum refuted the idea that P&G is responding to the market, rather than to its consumers.
"We've been understanding consumers over the last 100 years in blades and razors," she said. "Probably pretty well, because today 750 million globally trust Gilette, so we're doing something pretty well in understanding them."
"There isn't a single day in the organisation where we don't test, learn, a new feature, a new product," she added – but sounded a note of caution about becoming attached to the idea of change and progress for the sake of it.
"You can always be an agitator, a disruptor, but what for?" she said. "You need to step back. To look for the latest shiny object is not always very useful. The question I'm really asking myself is: so what? The fundamentals are always the same – in a new manner, using new tools – to answer only one question: the consumer, what does he want?"