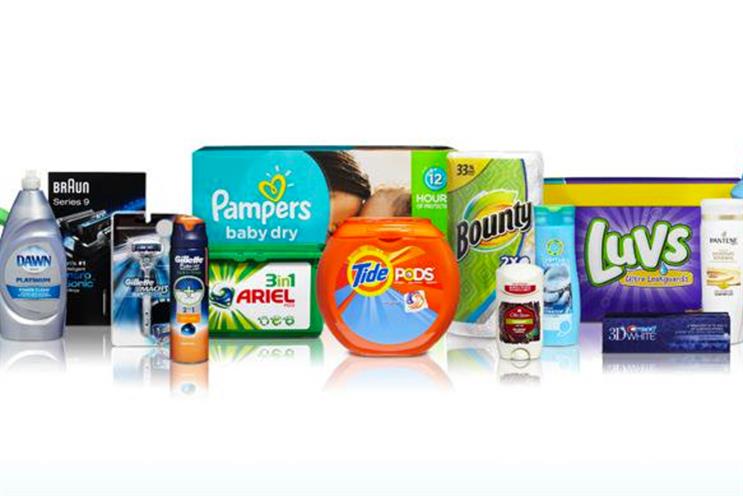 P&G, the world's biggest advertiser, spent $125m less on advertising in the 12 months to June 2017 compared to a year earlier, according to its annual report.
The American consumer goods giant would have spent roughly the same amount as a year ago if it had not slashed its digital adspend by $140m between April and June 2017 because of concerns about online brand safety and fraud.
P&G, the owner of brands such as Fairy, Pampers and Tide, has cut its adspend by more than $1bn since 2013, when its annual budget was $8.19bn, as it struggles to increase sales.
Ad expense fell to $7.87bn in 2014 and $7.18bn in 2015, before rising to $7.24bn in 2016, and then dropping to $7.12bn this year.
P&G last spent so little on advertising in 2006 when ad expense was also $7.12bn, although the size of the company has changed over time as the group has sold several businesses, including its beauty brands business to Coty and Pringles to Kellogg.
A spokesman for the FMCG giant also pointed out its marketing spend can vary year by year, depending on the activities of its different brands.
Marketers and agencies closely watch P&G because of its scale and reputation as an agenda-setter.
Chief brand officer Marc Pritchard gave a landmark speech in January when he warned the digital media supply chain was "murky at best, fraudulent at worst".
P&G subsequently cut digital adspend globally in the next quarter from April to June, explaining to investors that it wanted "to temporarily restrict spending in digital forums where our ads were not being placed according to our standards and specifications" – for example, ads were "being seen by bots, not real people".
Sales held steady in the quarter and rose 2% on an organic basis and P&G said that was proof that some of its digital adspend had been "ineffective".
The company has maintained the reduction in spend was about making a "good investments", not a cost-saving measure to boost profit margins.
"We want to spend money in digital and we will continue to spend money in digital, but we are not going to make bad investments for our shareholders," P&G said.
However, the company has also been cutting costs more broadly because it is under financial pressure and made "productivity savings from overhead, agency fee and ad production costs" in the last quarter.
P&G's annual net sales were flat at $65.1bn in the year to June 2017 and have fallen from almost $74bn in 2013.
Activist investor Nelson Peltz has called on P&G to bring sales and marketing closer together to boost growth and is demanding a seat on the board, but the company has rebuffed his demands so far.
All of the big consumer goods companies are battling to cope with digital transformation and the rise of ecommerce and have been reviewing their advertising spend, agency fees and production costs.