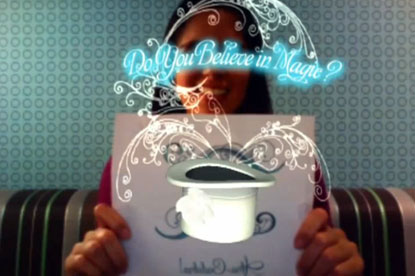 The digital campaign, which was devised by Leo Burnett Chicago and Digitas Boston, builds on the current US strapline for Always, "works like magic", by enabling users to perform their own magic trick.

Augmented reality technology allows consumers to create interactive 3D images using their webcam and a printed symbol.

The Always ad, which is downloadable from Always.com/3D, uses this method to create a magic trick whereby users can hold up a picture of a magician's hat, out of which pops a white rabbit, along with the text: "Irresistibly soft."

The campaign marks a continued effort by P&G to further invest in the digital marketing space.

Last year, just 3.3 per cent of the total $61 million media expenditure on the Always brand was spent on internet advertising.

The campaign comes shortly after the FMCG giant launched a series of online webisodes for Tampax featuring a teenage boy who had mysteriously woken up without his "guy parts".