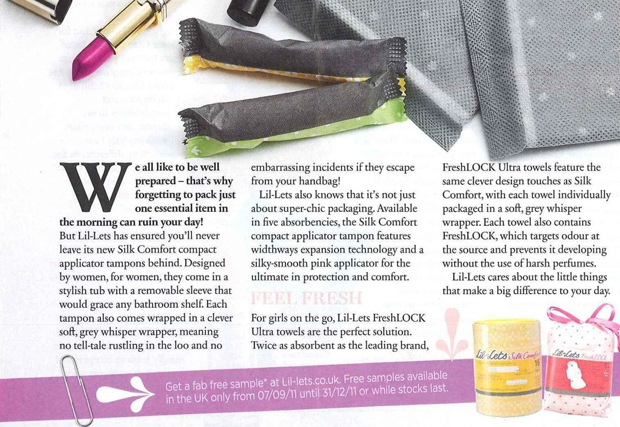 Procter & Gamble, which makes the rival Tampax tampon brand, challenged the magazine ad campaign on a number of counts, in essence arguing that its claims were misleading and couldn't be substantiated.
The Lil-Lets magazine ad is understood to have been made in-house. It ran earlier this year and stated: "Lil-Lets also knows that it's not just about super-chic packaging. Available in five absorbencies, the Silk Comfort compact applicator tampon features widthways expansion technology and a silky-smooth pink applicator for the ultimate in protection and comfort."
The ad continued: "For girls on the go, Lil-Lets FreshLock Ultra towels are the perfect solution. Twice as absorbent as the leading brand, FreshLock Ultra towels feature the same clever design touches as Silk Comfort, with each towel individually packaged in a soft, grey whisper wrapper."
Included in its complaint to the Advertising Standards Authority were demands for Lil-Lets to substantiate claims such as "The ultimate in protection", "The best protection possible" and "twice as absorbent as the leading brand".
In its defence, Lil-Lets argued that the words "ultimate" and "protection" were both capable of multiple interpretations and meanings, and that it was paramount to consider the context in which they appeared.
Specifically, it tried to defend each of the claims in its ad. For example, in defence of the statement "twice as absorbent as the leading brand", it argued there was no industry standard for the testing of the absorptive capacity of sanitary towels.
Lil-Lets also argued that when its FreshLock Ultra towels were compared with P&G's Always Ultra towels, its product was consistently found to be more than twice as absorbent in total capacity and sometimes three times as absorbent. It also supported its argument with other more in-house data.
In its ruling, the ASA said it noted that there was no industry standard test for the absorbency of sanitary towels.
But it also ruled that Lil-Lets research had not demonstrated that its in-house testing was rigorous enough.
In its ruling, the ASA ruled against Lil-Lets and said the ad should not appear in its current form.
Follow @johnreynolds10