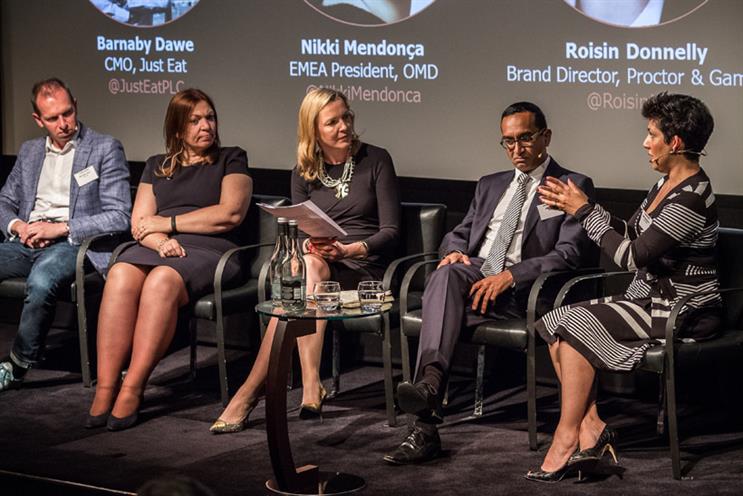 "We can talk about digital, we can talk about change – but if you put people at the heart you'll be successful," said Donnelly, the brand director for Northern Europe at the FMCG giant.
"If you don't, you won't. One thing marketing has got too hung up on is platforms – the latest thing to come along – when we should be a business, an industry, that is completely and utterly people obsessed and people centric."
Donnelly was speaking at an Oystercatchers event, How to be a Modern Marketer, in London last night, alongside Britvic global brand director Ash Tailor, Just Eat's global chief marketing officer Barnaby Dawe, and Nikki Mendonça, the president of OMD EMEA.
Don't ignore the power of TV
Donnelly and Dawe – who joined Just Eat last year after a career spanning multiple media companies – both discussed the importance of understanding the right channels to use, and acknowledging the power of TV.
"In the UK, we're lucky: TV is fabulous," Donnelly said. "We've got great content and big audiences – if we look at the reach and the power, TV is a fantastic medium, and we can't constantly be moving on to the next shiny toy."
Dawe said that for fast growing Just Eat, the inflection point in most markets has come when the brand makes its TV debut - but that it was vital to consider this carefully. "I actually stopped some markets from going on TV because they weren't ready," he said. "They were looking at their numbers and not what the customer demand was. And not looking at the modelling."
On the subject of embracing changes in the market, Tailor and Mendonça agreed that agencies have a vital responsibility to speak up to their clients.
"As a client, the brief I write may not be the right brief," Tailor said. "I've shared the brand, the ambition and problems that we've got, the culture that we're working in. And then it's an open door. I've got an opinion, and I should have as the brand lead, but actually that may not be right."
"Change is mandatory – if you don't, you will die"
Mendonça said it was "very difficult when you have clients who don't want to move as fast as the market requires of them" – but said she found it "dawned on them quickly" that it wasn't optional. "Change is mandatory," she said, "and if you don't you will die."
She added that OMD had used the same lessons to improve its ability to meet the needs of clients. "We restructured so that we built multidisciplinary teams that were completely client first – not necessarily adhering to the traditional silos you'd find in an agency holding company. We've found that that has given us quite a fresh lease of life."
Donnelly summarised the changing role of the CMO by saying: "I can't possibly see everything the consumer sees, when I look at all the digital touchpoints, what they're posting on social media. It's my job to be an enabler, to support the organisation internally, to understand the ethos of the brand.
"The world has never moved so quickly - but it will never move this slowly again. The speed of disruption we're seeing today is just going to get faster and faster and faster, and we need to change our culture, the way we lead, if we're going to succeed in the future."