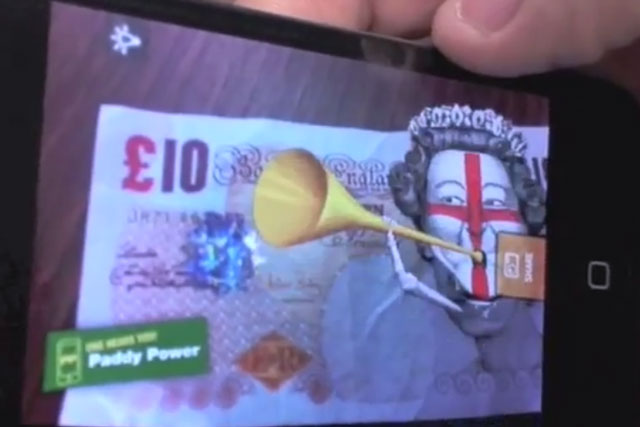 The Queen will share her views via the Blippar augmented reality app on footballing topics including England's chances, Rooney's hair, the cheating French and the Germans' penalty tactics.
The activity, created by Crispin Porter + Bogusky, will be supported with press advertising and social media activity.
Mobile users can access the content by opening the Blippar app and holding their phone over the £10 note, which will generate an animated Queen.
Users of the app will be able to click through to Paddy Power Mobile and put a bet on.
The Queen's views will be randomised and refreshed daily throughout the length of the three-week tournament to ensure users will see something new each time they "blip".



A Paddy Power spokesman said: "I'm sure the Queen like everyone else has views on football, but as we're unlikely to hear them we thought we'd use a bit of creative license.
"It might put us at risk of getting thrown in the Tower of London but as we know she likes a flutter we're sure Her Majesty will see the funny side."
The campaign marks the first time Paddy Power has used Blippar's technology and the first time Blippar has partnered with a gambling brand.

Follow Matthew Chapman at @mattchapmanUK