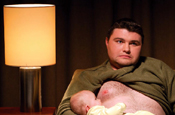 The successful agency will be briefed to produce above-the-line and online campaigns for the bookmaker, which has a history of controversial advertising.

The gambling brand has previously used a variety of agencies, including the Dublin-based Cawley Nea\TBWA, whose underground print ad featuring a man attempting to breastfeed a baby was banned by Transport for London in December last year.

More recently, a campaign promoting Paddy Power's financial spread-betting service was one of the first ads to fall foul of the Advertising Standards Authority's new powers over gambling advertising.

The national press campaign featured a short man in a limousine, flanked by two attractive women.

The ASA demanded the ad's withdrawal, saying its strapline, "Who says you can't make money being short?", implied gambling was a way to improve self-esteem or gain admiration.