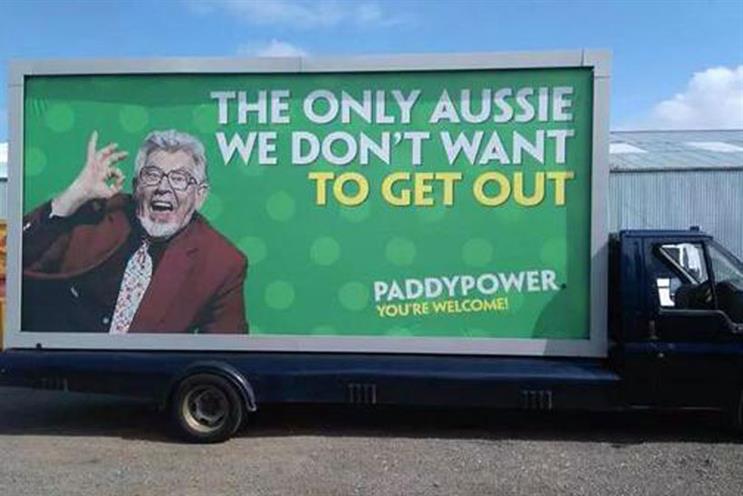 Paddy Power had planned to use the billboard, which features the Australian entertainer who is currently in jail for sex offences against children, for some Ashes activity today at Lord's Cricket Ground in London.
However, a spokesman for Paddy Power said: "We decided that, on balance, although potentially amusing for the cricket fan, the sentiment of the advert crossed the line and had the potential to cause offence."
Despite being pulled by the company, the ad has appeared on social media, although the company spokesman said he was not aware how it had got there. "We haven't got to the bottom of this yet," he said.
An image of the ad on the side of a lorry in what appears to be an industrial park was posted on Twitter by user @_Bernard_91:
.@paddypower's marketing team are on another level ?????? pic.twitter.com/c2wS2NkJqo
— Bernard (@_Bernard_91)
July 16, 2015
The spokesman went on to say: "It's not often Paddy Power make this kind of decision but in this instance we believe we made the right call not to run it. We can confirm that we will be destroying the advert and it will never be released in public."
The Irish company is well known for controversial and unusual advertising campaigns and publicity stunts. Earlier this month it defended itself after putting adverts on vans inviting immigrant to "jump in the back".
Earlier this year it was accused of launching ex-footballer David Ginola's bid for presidency of international football governing body FIFA as a publicity stunt, while last year an ad featured Nigel Farage, the UKIP leader, declaring that he "loved Europe".
This article was first published on www.prweek.com
---
Recommended