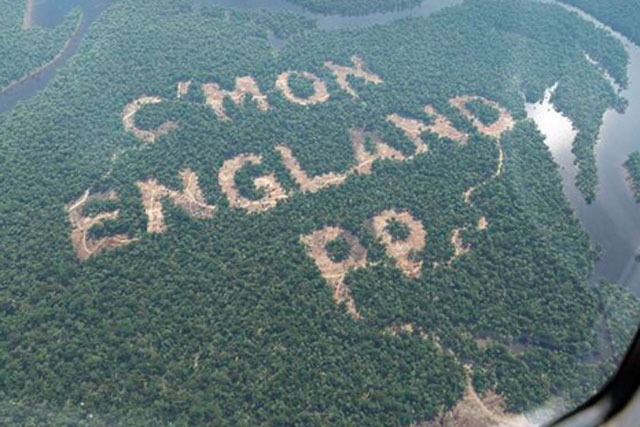 On Saturday (7 June), the bookmaker posted aerial images of a rainforest which appeared to show large swathes of trees cleared to form the phrase, "C'mon England PP."
C'mon England! #BrazilNuts pic.twitter.com/8O1Ayyd8TR

— Paddy Power (@paddypower) June 7, 2014
Paddy Power then hinted that the image was real with Twitter posts such as, "Run, forest run!" and "We're showing our support for Roy's boys!!"
The image provoked a predictably ferocious response from many Twitter users, with Paddy Power receiving abuse for its "irresponsible" actions.
However, yesterday (8 June) Paddy Power released a second image in a similar vein carrying the line, "We didn't give the Amazon a Brazilian," revealing that the stunt is part of a wider campaign – devised by agency Lucky Generals – to raise awareness of deforestation in the rainforest.
Wood you believe it? http://t.co/DxupnvU2Lf #SaveTheRainforest pic.twitter.com/UT3DA4igl4

— Paddy Power (@paddypower) June 8, 2014
In a blog, Paddy Power outlined how the images had been generated over a period of months, with 1.5 million individual "trees" in the canopy created by computer designers.
The bookmaker wrote: "Greenpeace told us that in the Amazon an area the size of 122 football pitches is chopped down every 90 minutes, which is shocking. Paddy Power's #Shavetherainforest stunt helps to haul this issue into the public light, with our own little mischievous twist."
Readers of the blog are offered a link to join a "movement to protect rainforest wildlife", although the prominence of the URL has been criticised in some quarters due to the lack of direct click's to Greenpeace's website.
Well @PaddyPower raised awareness but with less than 2k direct clicks to Greenpeace it's more about them than trees? http://t.co/593nLfLJJe

— Jerry Daykin (@jdaykin) June 8, 2014
Harry Dromey, Paddy Power's "Mischief Champion", said: "It was a hairy weekend as many of my family and friends disowned me, but it put the brand in the news, ultimately for a good cause."
Andy Nairn, the founder of Lucky Generals, said: "While we had lots of fun with this, we were also glad to draw attention to a very serious issue. We want all our work to provoke a cultural reaction – but this is the first time people have called for us to be killed one day, then knighted the next."