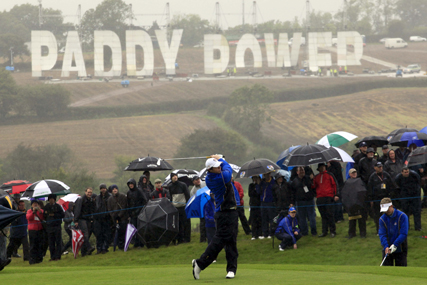 The betting chain started to erect a 270ft promotional sign on Monday in the style of the white Hollywood sign on Mount Lee, overlooking Celtic Manor Golf Course in Newport, Wales, site of the international golf tournament where play begins tomorrow (1 October).
By the time it was set up on Tuesday, Monmouthshire County Council had sought an injunction against the firm, whose eponymous owner appeared in court yesterday to defend the move.
Celtic Manor owner Sir Terry Matthews described the firm as "scum" in an interview with the BBC.
Paddy Power, the bookmaker's head of communications, said: "We're very disappointed. The fun police have won – the big bully boys have come along. They completely over-reacted and threatened to bulldoze the sign down, which they had no legal right to do."
However, Power said it "will respect the verdict of the court" and was glad the court allowed the company three days to remove the sign safely.
The bookmaker erected the same sign earlier this year at the Cheltenham Festival. Power said: "That was up for the week. There was no big issue with that, only a bit of hoo-ha. It's just a sign, it's not hurting anyone."
As a result, the company has come under scrutiny for adopting guerrilla marketing tactics. Power agreed: "I guess it kind of is [guerrilla marketing]. There's nothing bad about that though, if it's on private land outside the boundary."
The bookmaker said it did not agree it was infringing on official sponsors' rights. Power said: "I don't think it is. Official sponsors can do what they want. Our sign wasn't in the event. Where's the boundary? If there's a sign in a hotel 10 miles away, what's the difference?"
But the company acknowledged that sponsors might feel hard done by: "If you were an official sponsor with those miniscule little logos around the court, then maybe that's an issue, if you've paid all that money."
Despite the court judgment, Paddy Power is not deterred from erecting signs at similar sporting events in the future. Yesterday the company decided to take bets on where the giant billboard will next appear.
Power said: "It's 500/1 we'll turn up in that bloke's [Sir Terry Matthews] back garden and 1000/1 we'll turn up on the moon.
"The London Olympics is emerging as the early 2/1 favourite."