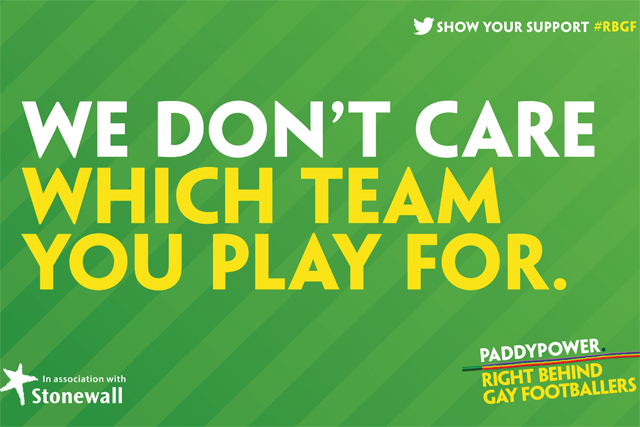 Every footballer at the 134 professional clubs in the UK has been sent the laces. The players have been asked to wear them on Saturday 21 and Sunday 22 September as part of the 'Right Behind Gay Footballers' campaign.
The campaign is seeking to change attitudes to homosexuality and make football more gay-friendly.
Only a handful of professional footballers have come out as gay during their playing careers. Justin Fashanu, the UK's first openly gay footballer, tragically committed suicide.
Paddy Power and Stonewall are encouraging the public to back the Right Behind Gay Footballers campaign during the build-up to the weekend fixtures using the #RBGF hashtag.
An advertising campaign will also run this week across traditional media to "shine the spotlight on homophobia in football".
A Paddy Power spokesman said: "We love football but it needs a kick up the arse. In most other areas of life people can be open about their sexuality and it's time for football to take a stand and show players it doesn't matter what team they play for."
News of Paddy Power supporting the campaign comes a week after the bookmaker hosted a press conference with former basketball star Dennis Rodman to announce a basketball match between teams from North Korea and the USA.