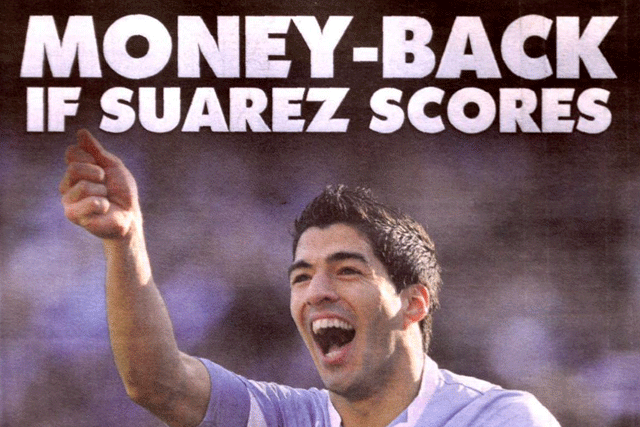 The press ad, featuring an action shot of Suarez, promised Paddy Power customers would get their money back, if Suarez scored in the Liverpool v Manchester United match towards the end of last year.
The ad, which appeared in The Sun on 15 October, received one complaint on the grounds it was socially irresponsible for featuring Suarez, who was under 25 at the time.
Paddy Power and News International confirmed Suarez was 24-years-old when the ad appeared, but said they did not believe the ad would have particular appeal to young or vulnerable people, or would encourage young people to gamble on the basis of his image.
They said he appeared in the ad because he was the subject of the bet and featured in his role as a professional footballer, rather than in connection with the act of gambling.
The ASA said Suarez was likely to be seen by consumers as playing a significant role in the campaign as he was pictured individually and was the focus of the ad.
It ruled the ad had breached the CAP Code rule, which states gambling ads should not feature people under 25-years-old gambling or playing a significant role in the ad.
The watchdog ruled the ad must not appear again in its current form and Paddy Power was not to use under 25-year-olds in its advertising in this way again.
Suarez was recently handed an eight-match ban by the FA for racially abusing Manchester United footballer Patrice Evra.
Follow Sarah Shearman on Twitter @Shearmans