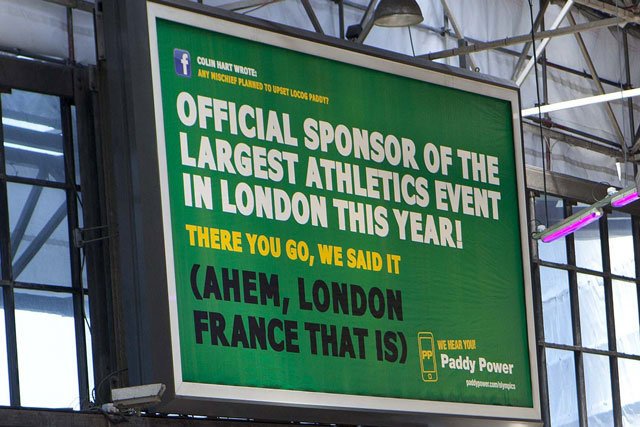 The London Organising Committee of the Olympic Games (Locog) instructed JCDecaux to take down billboard ads promoting Paddy Power's sponsorship of an egg and spoon race in London, Burgundy yesterday.
In response Paddy Power has asked law firm Charles Russell to seek a court order on its behalf on the grounds that the campaign does not breach legislation on advertising around the 2012 Games.
The billboards, which a source confirmed are still in place at London Bridge, Kings Cross and Victoria stations, promote Paddy Power's sponsorship of the egg and spoon race, which it calls the "largest athletics event in London this year".
A spokesperson from Paddy Power said: "We pride ourselves on listening to our customers and what we've heard loud and clear is that Locog have got their priorities upside down.
"It's a pity they didn't put the same energy into the ticketing and security arrangements for the Games that they put into protecting their sponsorship revenue streams.
"We're taking this fight to the High Court in the interest of our customers and of common sense."
A London 2012 spokesperson said: "We can take a joke, but as you would expect we had to draw the line at the provocative references to LOCOG. We also have a responsibility to ensure that no-one thinks betting companies have any sort of official connection to London 2012."
None of the Olympic sponsors are betting companies and the IOC has strict rules on betting being linked to the Olympics.
Article A5 of the IOC Code of Ethics provides that all forms of participation in, or support for betting related to the Olympic Games, and all forms of promotion of betting related to the Olympic Games are prohibited.
In relation to the court order, the spokesperson said: "We have not seen any papers yet and will reserve comment until we do."
A spokesperson for JCDecaux had not returned requests for comment by the time of publication.