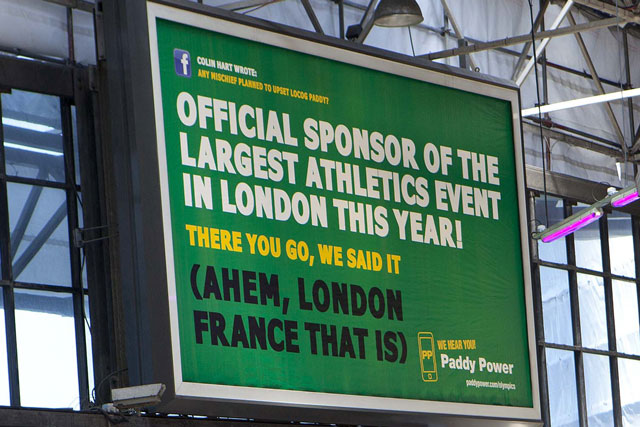 The inaugural Paddy Power Egg-and-Spoon Race next Wednesday (1 August) in London (in the French region of Burgundy) will see male and female athletes competing to carry an egg balanced in a spoon for 200 metres.

Paddy Power has booked three of JCDecaux's billboards at London Bridge, Kings Cross and Victoria rail stations to support the race and will roll out a national campaign later this week.

Two Irish agencies, Mixtape Marketing and Social House, have collaborated on the marketing activity and the media planning and buying is by M2M.

A spokesperson for Paddy Power said: "It's an honour to support the biggest athletics event in London this year. We're looking forward to a competitive and fun event where our athletes can wear, eat and drink whatever they want!"

The promotion is a not too subtle reference to the London 2012 Olympic and Paralympic Games, which formally begins on Friday with the opening ceremony at the Olympic Park in Stratford.

A spokesman for the London Organising Committee of the Olympic Games said it was "aware" of Paddy Power's campaign but declined to comment on whether it was investigating it or whether the bookmaker had run the ad past it.
None of the Olympic sponsors are betting companies and the IOC has strict rules on betting being linked to the Olympics.
Article A5 of the IOC Code of Ethics provides that all forms of participation in, or support for betting related to the Olympic Games, and all forms of promotion of betting related to the Olympic Games are prohibited.