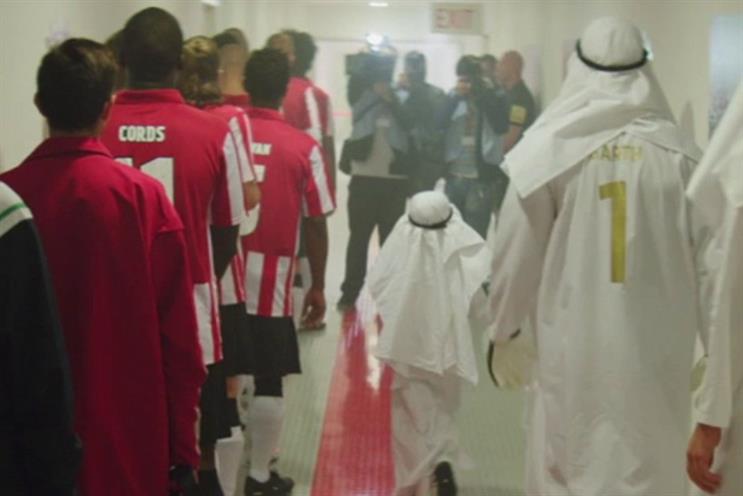 The 'New owner, new lease of life' campaign shows one fictional team's new home kit after it is acquired by a 'Sheikh'.
The team is shown jogging onto the pitch in Middle Eastern clothing - described as "breathable" - and tripping over their long robes. The rival team is shown wearing standard kit.
The betting company has also written a blog post exploring the five worst kits in footballing history to coincide with the campaign.
A Paddy Power spokesman said the ad was about giving a voice back to fans ignored by the "sporting powers that be".
He said: "In this case we're having a little fun at the expense of megalomaniac owners of football clubs who make sweeping changes without a second thought for the fans."
Specifically, that's a reference to Assem Allan "doing away with 100 years of history" by trying to switch Hull City's name to Hull Tigers.
Similarly, Cardiff's Malaysian owner, Vincent Tan, famously changed the club's home kit to red, despite the team's nickname being Bluebirds. It was thought red would make the team more popular in Asia, where red is a lucky colour. After more than two years of fan outrage, Tan this month agreed to revert back to the team's original blue home kit.
This isn't the first time Paddy Power has courted controversy, goading anti-UKIP types with a campaign featuring Nigel Farage.
The TV campaign, created by Crispin Porter + Bogusky, has been airing on BT Sport and Sky Sports channels and will continue until the end of the season.
Read next