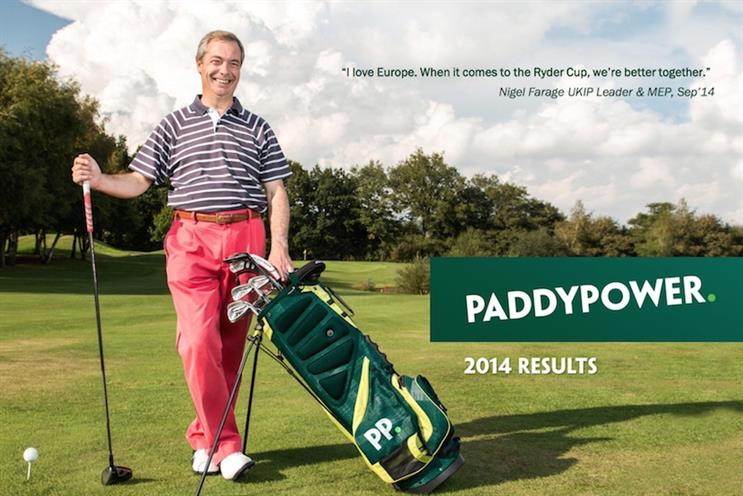 The seriousness with which the bookmaker treats its 'mischief-maker' positioning is evident in its annual results statement, which includes 48 references to either 'marketing' or 'brand' and reveals that the company's total marketing expenses rose by almost 25% to €100.9m for the year. The results include businesses in Australia, Italy and Ireland as well as the UK.

The extra marketing spend went partly on increasing Paddy Power's share of voice in UK television advertising from 5% to 15%, which it claimed drove its football customer acquisition rate up 86%.

The company said it was pleased with the impact of the increased investment in TV advertising and it "maximised the value of our distinctive brand and online marketing and worked well in tandem with new product releases and targeted value for customers. We will be maintaining a heavy focus on these areas to achieve further improvements and profitable growth."

It stressed that across its business it had been able to achieve 28% growth in online customer acquisition with no increase in marketing costs per new customer acquired and it claimed its marketing efficiency (marketing costs as a percentage of online net revenue), at 21%, was better than its rivals.

Investors cheered the company's record €167m pre-tax profits, sending its share price up by more than 9% to £72.82. The share boost was also down to the company's announcement that it had decided to return capital to shareholders as it had yet to see any substantial opportunities for acquisitions that were as compelling as its organic growth strategy.

Setting out this strategy, the company promised more focus on product differentiation, which was the rationale for a recent reorganisation of the business in which new chief executive Andy McCue promoted global marketing director Christian Woolfenden to his former role of MD of retail for the UK and Ireland and promoted head of online Peter O'Donovan to the new role of chief product officer. (The search for a new marketing director to replace Woolfenden is still ongoing.)

The company backed up its belief that product needs more attention with an investor presentation featuring research that showed product was the most important factor in choosing a bookmaker for 35% of consumers, ahead of 30% saying promotions, 25% saying 'brand and other', and 10% saying price.

Product development will be guided by priorities for future investment which emphasise online over retail, mobile over desktop and sports over gaming.

However, it said it would also concentrate on "deepening the distinctiveness" of its brands to stand out in a crowded marketplace and would launch new campaigns for Paddy Power and Sportsbet, its main brand in Australia, this year, as well as "continue to push the boundaries of social engagement".

In summing up its marketing highlights the company managed to avoid mentioning its most 'boundary-pushing' campaign of the past year. Its advert of its odds on the outcome of the Oscar Pistorius murder trial, which promised "money back if he walks", was the most complained-about advert of 2014.

It did disclose eye-catching stats on some of its other activity, including how its World Cup publicity – including a scientific study by Professor Stephen Hawking, a Christ the Redeemer hot air balloon and the 'Shave the Rainforest' stunt – helped bring it 148,000 new online customers over a four-week period.

It also reported that its anti-homophobia in football campaign, Rainbow Laces, doubled its impressions compared with 2013 and reached 30% awareness among the entire UK adult population.

There were also admissions of failure, with the company saying it had decided to discontinue its Facebook betting product Paddy Power In-Play, a social sport betting game Betdash, and its casino app Roller. It is also reviewing its strategy in Italy after slower than expected overall market growth.
---
Recommended