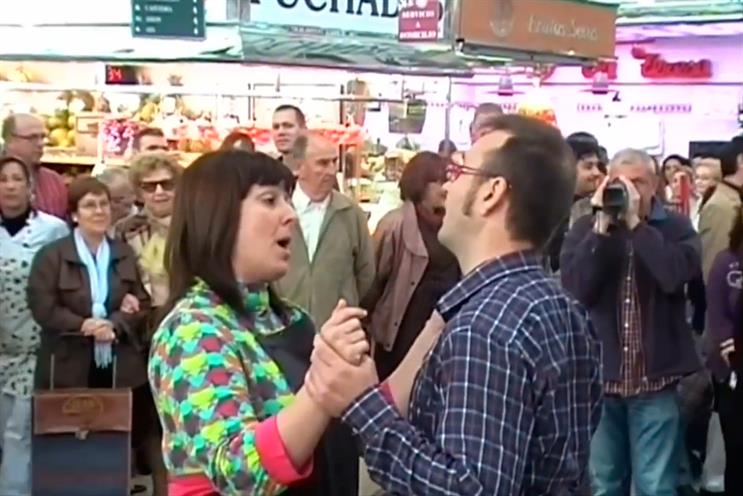 This viral spot by Arg!, which sought to change the image of opera, is from 2009, but it is still rather wonderful. First off, there is the sheer surprise when the greengrocer starts singing. He is much better than the blokes you usually hear down the market. Clearly, it's in Spain, so perhaps they just have more tuneful barrow boys there.
Then, the lady (I'm not calling her fat, but she is a traditionally built soprano) sings back at him. By now, it's beginning to be obvious this is not about offers on fruit and veg. It all gets quite passionate vocally. Then the master stroke: a bloke with a shopping trolley – a genuine old-lady-style bag on wheels – chips in. And, boy, can he sing too. Don't ever let a shopping trolley fool you.
After that, they keep on coming. The crowd reactions are tremendous. They don't know where to look. One or two seem to think they should join in, which is brave and/or foolish, but also touching.
You might think six minutes of this is a bit long. Once you have got the idea, that's it, isn't it? But, in fact, the singing is so good and the whole performance so fine that it keeps drawing you in. The people in the market are, in some cases, moved to tears – and you may be too.
Towards the end, a sign appears that says (in Spanish): "See how much you like opera?" And that's it.
There have been many more flashmobs since, but few as moving. Or as effective. This is product demonstration on a grand scale. Almost any argument you could make for opera will stumble on a host of preconceptions.
This short film cuts the crap and puts you into the middle of the experience.
It must have been intense to be there. But the film is perhaps even better because you get to see the audience reactions all around the market, and that completes the picture – this is what opera can do to you. You feel it with them too.