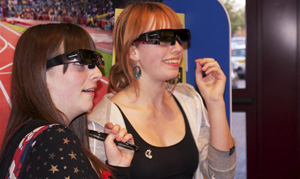 The campaign began last month and will run for 27 weeks visiting 43 cinema foyers across the UK.
Visitors to the roadshow will be able to view content in high definition 3D and have the opportunity to see themselves in 3D.
"Through the strategic selection of high footfall cinema venues in close proximity to dealers, we have developed a campaign with Panasonic which not only drives footfall and sales for the trade but also interrupts consumers when they are in a receptive mindset to 3D," said Closer Live account manager Sally Banks.
"Furthermore the live activity coincides with major blockbuster 3D releases. The activation enables ongoing dialogue with consumers through data capture via hand held PDA's and QR code linked mobile-enabled data capture sites."
Panasonic UK sponsorship manager David Bonney added: "Panasonic is committed to bringing people closer to the action and our 3D Cinema Roadshow is a great opportunity for visitors to the cinema to experience ground breaking 3D."
To leave a comment register and let us know your thoughts.