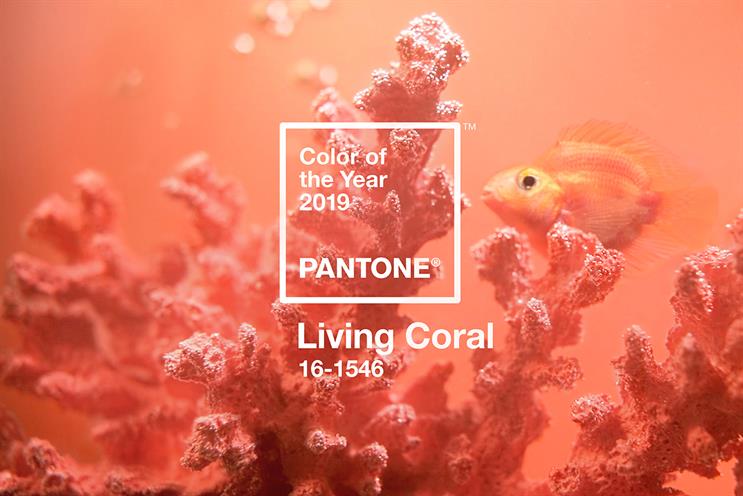 Step aside, Ultra Violet. Welcome, Pantone16-1546 (also known as Living Coral) – the shade that Pantone Color Institute has announced as its Color of the Year.
Trend analysts and colour experts at Pantone have once again scoured the globe, drawing on entertainment, sport fashion, art, travel and cultural influences, as well as socioeconomic conditions, emerging tech and social media platforms, to find the colour that embodies the year ahead. Thankfully, Brexit black and Gen Z yellow are out and the 20th Pantone Color of the Year is a warm orangey shade with golden undertones, evoking coral reefs and the natural world.
Commenting on the choice, Pantone's exective director, Leatrice Eiseman, said: "Colour is an equalising lens through which we experience our natural and digital realities and this is particularly true for Living Coral. With consumers craving human interaction and social connection, the humanising and heartening qualities displayed by the convivial Pantone Living Coral hit a responsive chord."
Indeed, the trend forecasters believe brands can embrace Living Coral, a "sociable and spiritied" shade, with immersive experiences such as pop-up installations and interactive spaces due to its "playful spirit" and that it will also have a vibrant social media presence.
Marriott International has already partnered Pantone to create colourful immersive experiences for guests in its Tribute Portfolio hotels based in creative communities and tying in with cultural events, such as Art Basel Miami Beach at the Royal Palm South Beach Miami resort. Adobe Stock has also announced a partnership with Pantone to bring a curated Living Coral collection to support the design community.
But will creatives embrace Living Coral or will they share the mindset of Graeme Noble, chief creative officer at TMW Unlimited, who said "the colour of the year should be renamed '1980s napkin pink'"? And what would top their trend palette for 2019?
Vicki Maguire, chief creative officer, Grey London
I'll be honest, I'm not feeling it. I admire the optimism, the calming terracotta, muted positivity. Living Coral… a name that inspires hope and sustainability. I don't believe next year will be a 'navel-gazing, muted Californian clay tile' kind of year. My year will be hot pink with flashes of angry red, serine purple and orange rage. Turning up the heat of diversity and equality. Reclaiming pink as a colour, not a gender, but combining this with red – hot red, angry red.
Back in the 80s, we used to call red stilettos 'fuck me' stilettos. This red should be 'don't fuck with me I'm on a mission' red. I'm voting for Pantone 206 U. The U stands for fuck you!
Shirin Majid, executive creative director, Cake UK
Living Coral is going to be social media catnip on the heels of Millennial Pink and Gen Z Yellow. It fits the lighter, escapist side of our #currentmood, and I can see brands using it in eyeball-grabbing social content and live 'grammable' experiences and backdrops for an instant modern refresh.
But after a year of Brexit, Trump, climate catastrophes, mental health awareness, and #metoo, it feels a bit light in the midst of our collective anxiety. My choice would be the more subdued but powerful deep orange-yellow of saffron, which is associated with strength and a quest for truth and enlightenment. We'll welcome the lightheartedness and optimism of Living Coral, but also crave empowerment going into 2019.
Colour trends can create visual relevance – but to truly be relevant in 2019, brands will need to be more meaningful. This doesn't (necessarily) mean attachment to causes or issues, but behaving in a way that's more human.
Trevor Robinson, founder and executive creative director, Quiet Storm
Rather than suggest just one colour for 2019, this seems like an excellent opportunity for the industry to come together and create a colour swatch comprising the whole range of people's skin tones. This would be a great reference back to the good old days, when we used to hold up the Pantone colour swatch to check everything was right, but with a progressive, inclusive application that would allow every agency to gauge at a glance if they're truly reflecting diversity in the make-up of their people.
Mark Stringer, founder, PrettyGreen
We all need to be a litte bit greener and we all need to play our small part in saving the world for our children and their children so well done Pantone for helping to keep 'saving our planet' in our consciousness.
Do I think brands will adopt "Living Coral" as an ascent colour through their campaigns to highlight a cause? Unfortunately not - I think this is a PR moment in time. But brands can clearly ride on the back of it, by being more overt if they want to drive home an environmental message by referencing the Pantone number and name.
Ben Peckett, creative director, Amplify

Warmer, more vibrant and outwardly more positive than the Trumpian turmeric glow that has seemingly cast a long shadow over the world, there's something soothingly familiar but also exotic and adventurous about this colour. This suggests that while we might be a society comfortable in the status quo, we're also one still driven to find solutions to the day's biggest issues – be it the environment or our support for progress, democracy and equality across the board.
If Living Coral hints at the optimism and passion people are carrying into the will-they-won't-they Brexit landscape of 2019, then the next colour could be a cerulean blue that nods towards the (hopefully) clearer skies ahead.
Catherine Borowski, founder and creative director, Produce UK
There's still an Instagram-shaped lust for Millennial Pink; but Living Coral could nudge it out in the coolest way possible. I think we'll be seeing this colour scaling London's tallest buildings in 2019 and singing from the rooftops. I'm personally dying to see a return of the classic 1970s sickly green colour and how it might fit within the trend palette.
Pantone colours year by year
Ultra Violet 18-3838 (2018)
Greenery 15-0343 (2017)
Serenity 15-3919 and Rose Quartz 13-1520 (2016)
Marsala 18-1438 (2015)
Radiant Orchid 18-3224 (2014)
Emerald 17-5641 (2013)
Tangerine Tango 17-1463 (2012)
Honeysuckle 18-2120 (2011)
Turquoise 15-5519 (2010)
Mimosa 14-0848 (2009)
Blue Iris 18-3943 (2008)
Chili Pepper 19-1557 (2007)
Sand Dollar 13-1106 (2006)
Blue Turquoise 15-5217 (2005)
Tigerlily 17-1456 (2004)
Aqua Sky 14-4811 (2003)
True Red 19-1664 (2002)
Fuchsia Rose 17-2031 (2001)
Cerulean 15-4020 (2000)