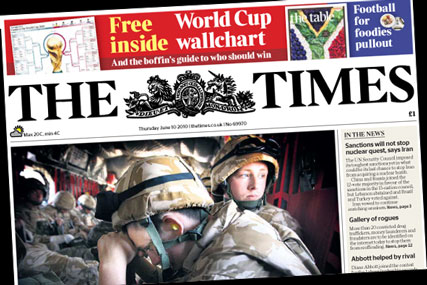 The Express headlines 'cancer mum denied vital drugs' and challenges Cameron's policy to end 'cancer drug lottery'.
'Cuts will push jobless to 3m' predicts The Guardian while The Times reports on increasing pressure on British army resources, reporting 'US warned Britain: you must send more troops'.
The Independent reports on findings that link autism and genetics while The Daily Telegraph writes 'test for childhood autism closer'.
The Sun criticises a judge's decision to cut the sentence of the man convicted of killing schoolgirl Sarah Payne and The Mirror claims the 'crossbow killer' has attempted suicide in prison. He is facing trial for the murder of three prostitutes.
The Daily Mail leads with 'stowaway survives 90 minutes clinging to jet wheels' after a Romanian man survived sub-zero temperatures while trying to enter Britain.
The Daily Star introduces this year's Big Brother housemates ahead of tonight's launch show.
With the World Cup only a day away, The Times includes a wall chart and a 'football for foodies' pullout and The Daily Telegraph gives away a free DVD with highlights from England's '1966 World Cup glory'.
DFS advertises with The Guardian and The Daily Mail includes its 'Femail' magazine.