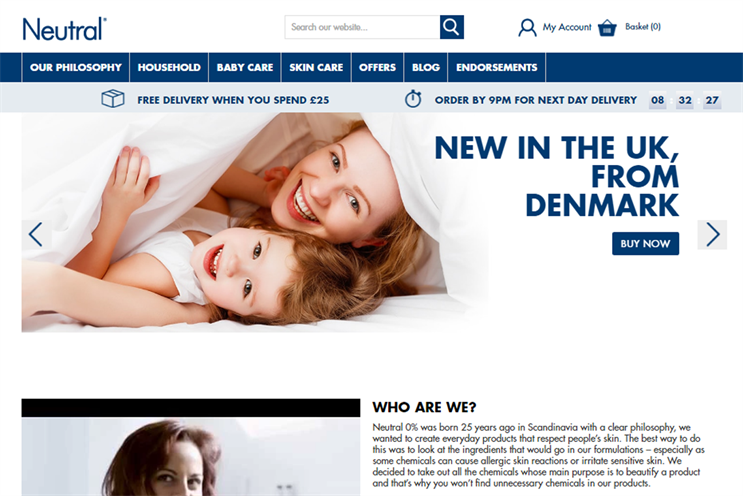 It follows the first for the app, with Johnson & Johnson's Aveeno Baby, which started in October. Mush helps parents make friends with others in the area with similarly-aged children.
Neutral 0% was launched 25 years ago in Denmark, but was only introduced to the UK earlier this year and is only available direct to consumer. The brand is defined by its formulations, which are designed for sensitive skins and contain no perfumes, parabens or colourants. The range includes detergents, shower products and skin care, as well as baby products.
The partnership will see Mush and Neutral 0% jointly create co-branded content for distribution within the app and on social channels, focusing on skin care and the brand's Scandinavian heritage.
Mush will also run a competition, giving away Mum Christmas Party kits to help mums of young children throw a Christmas party at home while keeping the kids busy. The kits include things like Santa hats, Prosecco, sticker books, baby wipes and skin care products. Mush will also run a pop-up coffee morning at which the app's users will be able to sample products.
The partnership came about after the Neutral 0% brand team was introduced to Mush via Unilever Foundry, which became aware of the company as it was seeking £650,000 investment on equity crowdfunding platform Crowdcube. With eight days of the campaign remaining, Mush has exceeded that target and raised more than £725,000.
Mush founder Sarah Hesz said the partnership worked because as a brand new to the UK, Neutral 0% was in a similar situation to a startup itself; she added that becoming a parent was often a stage at which consumers changed their brand repertoires.
Hesz said: "New mums change purchasing patterns and become highly conscious about the products they are using for their baby as well as their own skin. Mush enables Neutral 0% to connect with these mums and engage them across on-app content, social media and sampling events."