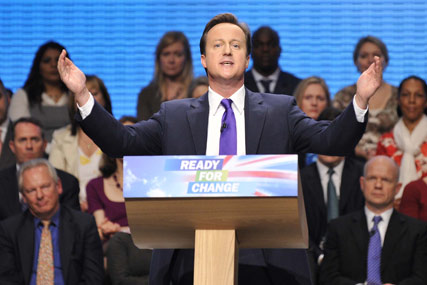 As David Cameron stepped up his drive to reverse the "commercialisation of childhood", the Tories also pledged to ban "peer-to-peer marketing techniques" and tackle online campaigns targeting children.
The Tories said they would seek to implement their crackdown through tighter voluntary agreements but were "prepared to legislate if necessary".
The Tories, who have pledged to reduce the COI ad budget to its 1997 level, said they would implement immediate cuts to contribute to £12 billion of government efficiency savings in the current financial year.
If Labour retains power, the Whitehall ad budget would be reduced by 25 per cent.
The Labour manifesto said its cuts would include "sharply reducing spending on consultancy and marketing".
The Lib Dems pledged to set up a "creative enterprise fund" to provide training, mentoring and small grants or loans to get creative businesses off the ground. They proposed limits on "publicly subsidised competition for paid advertising" from freesheets published by local authorities and new rules on airbrushing in ads.