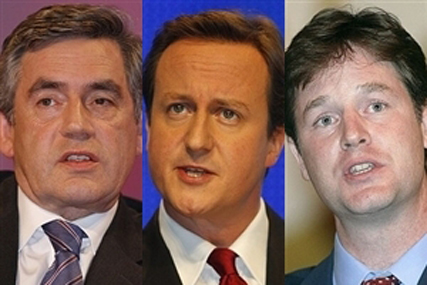 From today YouTube and Facebook users will to be able to ask questions in text or video format on subjects relating to economy, health and education, law and order and foreign policy.
All the questions can be publicly viewed and users will be able to vote them up or down, using Google Moderator. The most popular questions in each category will then be put to the leaders.
The party leaders will post responses up to a minute long on 28 April, ten days before the election.
The day will follow the first two TV debates on ITV and Sky News, where the party leaders will battle it out in front of a live audience with response from the leaders posted a day before the last debate on the BBC, hosted by David Dimbleby.
It aims to target young and first time voters who might be disengaged by politics. Collectively the political leaders will be targeting over 40 million active online users, including Facebook's 23 million UK users. YouTube reached 16.9 million users in January alone, which accounted for 43% of all UK internet users, according to figures by UKOM.
Facebook's director of policy Richard Allan said: "The dawn of the digital election this year is a transformative moment for democracy in Britain. By allowing voters to cross-examine their leaders, these digital debates will put the voters firmly in charge.
"This marks a decisive shift away from the constraints of top-down traditional media and will take full advantage of the unique scale and reach of Facebook, thus changing the way that politicians campaign for good."
Read more on Brand Republic's The red, yellow and blue election blog
Gordon MacMillan on The politics of social media and CLTs (career limiting tweets)
Mark Hanson on Searching for votes: What would Google do?

Jason Goodman Pick up the gauntlet and pick a politician