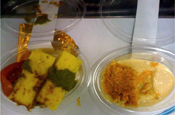 Oliver Beale wrote to the multi-millionaire about his experience aboard a ten-hour Virgin Atlantic flight from Mumbai to London.
In his missive, which is now circulating the internet, Beale claimed to have endured an array of gross meal options, providing the only means of in-flight entertainment.
At a loss with how to occupy himself, Beale attempted to watch a film. However, he complained that the channels appeared to be even more scrambled than the food served up by the onboard chef.
Back on solid ground, Beale received a personal telephone apology from the Virgin boss himself.