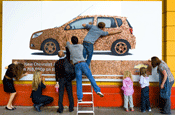 The installation lasted only 30 minutes as passers-by plucked coins from the poster.

The ad was unveiled in London's New Oxford Street to promote the Chevrolet Aveo.

Chevrolet's Les Turton said: There has been some great car adverts before, but none that have stopped traffic and actually put money back into the motorist's pocket so this is certainly a first.

The ad was created on the car company's behalf by PR firm Mischief.