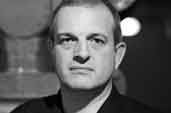 Pattison, 50, will join ILG in May. He has been given the job of expanding its range of services and looking at the possibility of international growth.
Pattison's arrival is a sign that i-level, which has been linked with takeover talks with holding companies including Omnicom, wants to increase its critical mass as an independent company.
Pattison said: "Digital is the new frontier of marketing and ILG Digital has always been in the vanguard."
Pattison's arrival means a change in roles for the i-level co-founders, Charlie Dobres and Andrew Walmsley. Dobres will switch to a non-executive advisory role, while Walmsley will become the deputy chairman. He will be focusing on client relations.
Pattison, who receives an unspecified stake in the group, will take the lead role in developing ILG Digital, while Faith Carthy, the group managing director, will concentrate on day-to-day operations.
As well as looking at international opportunities, Pattison will consider building a creative resource within ILG Digital. However, Walmsley said: "There's no concrete plan, that's what David's here to look at. It would be self-defeating to hire him and then give him a 'to do' list."
- Comment, page 44.