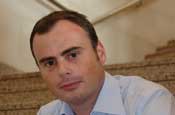 He signed the contract this week and replaces Tamara Ingram, who vacated the role in January to become the head of WPP's global Procter & Gamble business.
He will oversee both the main agency, with billings of £160 million, and Joshua/G2.
The thrust of Patton's brief will be to expand the business, with a major focus on improving its new-business performance following the recent losses of AOL and Nokia.
Another of Patton's main challenges will be to evaluate the senior teams in place at the agency and decide whether any changes need to be made.
However, Carolyn Carter, the chief executive and president of Grey EMEA, denied recent rumours that Dave Alberts, the agency's executive creative director and chairman, was being replaced. She said: "David remains our chief creative. There is no plan in place in the immediate future to replace any individuals. David Patton will have to make evaluations when he joins."
The decision to appoint a chief executive who has spent his entire career on the client side at gaming companies is a bold one.
However, Carter believes that his client-side perspective, creative sensitivity and leadership qualities make him the ideal candidate for the job.
"He will need to overcome quickly the barrier between client and agency as he moves from buyer to seller. But he knows this and he is a quick learner. His previous experience gives a wealth of knowledge on handling it from the other side. We're more than happy to teach him the P&L side of the business."