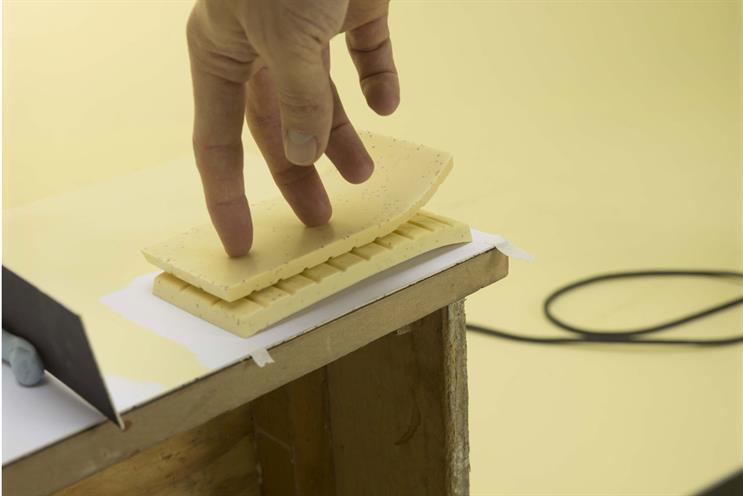 WHAT HE DID Baker made the model chocolate bars used in Mother's advertising campaign for Green & Black's.
Tell us about this project. Being involved with a campaign for a brand such as Green & Black's was very refreshing. The client was prepared to be adventurous with the product, allowing us to play with it, bend it and even be a little naughty with it. Researching the vanilla chocolate was interesting (two bars making love!). The way the "male" bar is lowering itself over the "female" bar with a gentle arch of its back and just the hint
of a thrust – very sensual, I thought… for a couple of chocolate bars. Then there was the "exotic one" – chilli-flavoured dark chocolate with nipple tassels. Also great fun researching!
What other campaigns have you worked on? The first confectionery-based work I did was the "just one Cornetto" ads for Wall's. I made the model ice-creams – yes, they were models (ice-cream tends to melt in mid-summer in Venice). The models are always very accurate and faithful to the original products with small imperfections built in, such as little shards of cracked chocolate or the odd misplaced nut.
How did you get into model-making? Model-making is a career I stumbled into while studying graphic design. A few projects lent themselves to making models and I never really looked back. I set up my company, 3D Studios, and just went knocking on doors. I was very lucky as I produced a lot of professional work while still at college, so I just built on these contacts doing numerous record and book covers, eventually breaking into advertising. My greatest accolade to date was picking up a D&AD silver for Mother's "football hooligan kit". Another success was winning the "people's choice for small garden" at the Chelsea Flower Show, where I designed and created Plasticine flowers, trees, rocks and shrubs. I like to work directly with clients and am now designing ice-cream products for Unilever.

What other food sculpture have you worked on? I am often commissioned as a food sculptor. Alongside my team, we created a portrait of the Queen from sweets to commemorate the Diamond Jubilee. I have also reproduced the Abbey Road album cover using only breakfast foods, as one does!