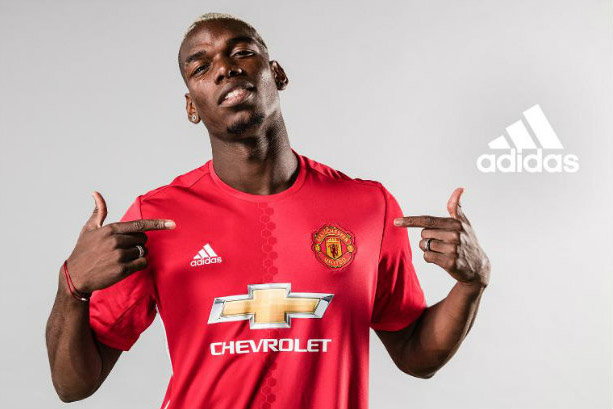 So he's back.

Paul Pogba is back. Or as the marketing machine at Manchester United exclaimed at 59 minutes before kick-off of the traditional season opener on Sunday – #Pogback

Forget the 'protracted transfer' and constant stream of media speculation, that hashtag hinted to the world that this was a deal done long ago.

Skip forward 36 hours and at an hour usually reserved for burying news, a slick 30-second video with Pogba announced his return; emerging from the shadows, with a suitably cool soundtrack, sporting a Man Utd emblem shaved and coloured into the side of his head, the video told the world he was, indeed, back.


And then what seemed like moments later but was actually 90 mins earlier, you had the Adidas version. Shot in the same studio, but this time with Grime star and the German sportswear brand's ambassador, Stormzy, delivering his usual 60-words-a-second rap of Pogba's return. Again, the club's new signing is there… dancing in the shadows.

Normally when you sign a player, even the previous world's most expensive player Gareth Bale, football clubs issue a smiling handshake and holding of the shirt photo followed by a short press conference.

This was different. While Pogba is talented and exactly the energetic, box-to-box midfielder United has craved since Roy Keane, I have no doubt that this was a move powered by marketing muscle.

Adidas is halfway through a £750m, 10-year sponsorship deal with United. Pogba is one of its global faces – if not THE face.

United is a commercial gargantuan. More sponsor categories than any other club in the world – from Official Noodles (yes) to Official Airline. And for all the criticism slung at chief executive Ed Woodward over the past three years, he is a commercial man rather than a football man.

And now, United… and Adidas…. have their man. The price tag is irrelevant. The most important figure is that United has retained 80 per cent of the Frenchman's image rights. In other words, Pogba is a very good place to invest £89m at a time when the Bank of England reduces interest rates to 0.25 per cent.

Early figures suggest Pogba will earn United £40m in the first year alone. Double that for Adidas. And that's without kicking a ball. And that's why he was announced to the world in a slick SnapChat / YouTube / Instagram generation video with Stormzy.

That is why all the headlines of a protracted summer of negotiations are rubbish. This is a well-conceived, well planned and well executed marketing assault that probably started in earnest on 27 May when Jose Mourinho was announced manager of Manchester United. In fact, I would put a pound on the fact that it started last Christmas.

So, Man United fans – of which I am one – get their man. But so do the money men in and around the club.
Andy Francis is director of agency Performance Communications. This article originally appeared on PRWeek.