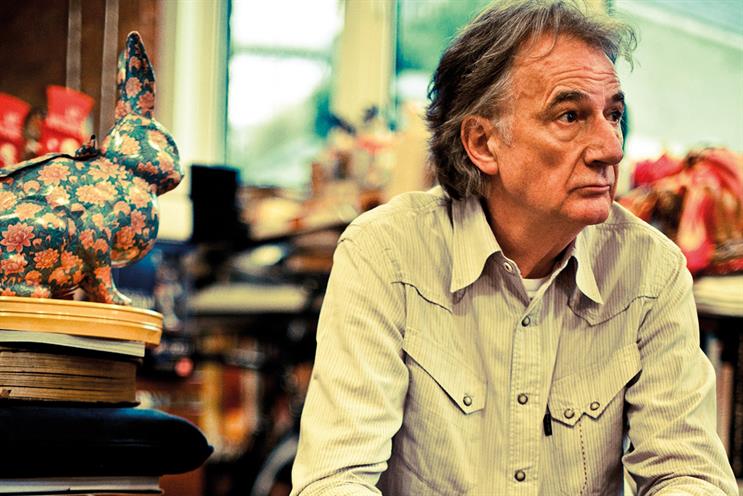 Sir Paul Smith knew what he wanted to be when he grew up. He was going to be a professional cyclist. Unfortunately for his teenage self – but luckily for fans of classic tailoring everywhere – cycling into the back of a car put paid to those dreams.
"It was never part of an elaborate plan," Smith explains. "I literally fell into fashion by accident after I had a serious crash on my bike, which ended my dream of becoming a pro cyclist. After coming out of hospital, I started meeting all these people from the local art college where I grew up in Nottingham and it was then that my eyes were opened to this world of creativity."
Creativity is the theme of the D&AD Festival at The Old Truman Brewery next week. On Friday, Smith will give a visually led overview of how his career developed from a Nottingham basement. It's a great story. When he started off in 1970, his shop was open only two days a week while he freelanced to earn extra money and learned tailoring in the evening. Today, you can buy Paul Smith clothes in 66 countries and his creativity expands beyond clothes to rugs, china, spectacles and fragrances.
"[Creativity is] absolutely vital," Smith says. "And 'creativity' doesn't have to mean standing in front of an easel and painting a picture. It's about a way of thinking, not following the crowds and doing things laterally. Look at huge businesses like Dyson – where did they come from? From looking at the world and thinking creatively. Or people like Thomas Heatherwick who use their creativity to solve everyday challenges in a completely amazing way."
A childlike curiosity
Smith's approach to creativity is encapsulated by his belief that you should be able to find inspiration in everything and, if you can't, you should look again. "What I mean by that is that it's about the way you look, not what you're looking at," Smith explains. "I have a very childlike curiosity, which means I'm constantly looking around myself and thinking about things in a lateral and creative way. I really do find inspiration in the most unexpected places."
And Smith lives by that motto: the stripe that has become synonymous with Paul Smith was simply "part of the collection" 20 years ago. In the late 90s, with the help of the graphic designer Alan Aboud, who now also works at Grey London, it became central to the brand. "We never 'created' it with the intention of it becoming so popular," Smith says. "But I think people liked the bright colours and the optimism they represented. Optimism isn't always easy to come by in today's world so I think that's why it stood out."
Just as Smith devises the stripes for his fabrics by wrapping the coloured yarns side by side – rather than designing them on a computer – the roll-out of his brand has evolved methodically. "We work hard to try to keep the character and personality in everything we do," Smith says. "Which is not easy when the world is so full of corporate roll-outs and people staring at screens but we're embracing it and, luckily, we're appealing to a younger audience again too, which is fantastic."
The role of marketing has "changed beyond recognition" since Paul Smith started out in the 70s, he says, and has become a "huge part" of the business. Aboud says he started working with Smith on his marketing when he was chosen from recent Central Saint Martins graduates in 1989 because he "was the wrong person" for the job: "Paul's very lateral like that."
"He doesn't need to see the obvious in people," Aboud continues. "I wasn't interested in fashion. He must have seen something in the way I talked as opposed to the way I presented. From then on, everything was done on hunch and gut feeling.
"Now everything is overthought. Then, ideas were ideas. For a shoot in Lundy Island, we street cast and then spent four days with the documentary photographer Hugh Hales-Tooke. Now there'd need to be strategy, merchandise requirements."
Marketing challenges
One of Paul Smith's current marketing challenges is attracting younger shoppers without offending loyal older customers who have grown up with it. The business was recently streamlined into the premium Paul Smith brand and the diffusion line PS by Paul Smith. The move followed the business being hit by independent retailers in Europe going bust. Turn-over declined by 8.7 per cent year on year to £171.4 million and pre-tax profit collapsed to just £1 million.
But despite the recent blip, Smith stands out as one of the few designers to have a corresponding talent for business. Smith says creativity is "absolutely fundamental" to all business and laments the fact that many people don't really appreciate it.
He has been an enthusiastic lobbyist on the design industry's behalf since Margaret Thatcher's time and is heavily involved in the relaunch of the Design Museum. At 69 and still known for his early starts, Smith shows no sign of slowing down.
If anyone is looking for inspiration next week, you could do worse than cycling over to Brick Lane to see if you can find it among Smith's many endeavours.