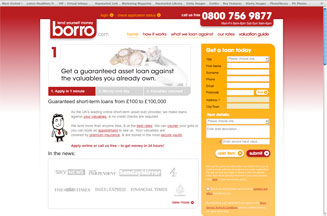 Fearing the humiliation of pawning their Cartier watch for a fiver, middle-class consumers have traditionally snubbed them. However, a growing clutch of online 'asset lenders' is aiming to change this.
The National Pawnbrokers Association estimates that the industry is up by 10% so far this year, and that many of its bigger members are reporting year-on-year growth of up to 40%. Either pawnbrokers' traditional sub-prime audience is becoming more lucrative, or the industry is attracting affluent first-time customers.
Paul Aitken, founder and chief executive of Borro.com, the UK's first online-only pawnbroker, says he is deliberately aiming the brand at more upmarket consumers.
'There is a bad perception of high-street pawnbrokers, and our advertising tries to reflect that we deal with all sorts of people,' he adds.
Borro.com, which launched last August, markets itself as the provider of a legitimate service for asset-rich consumers who find themselves temporarily short of cash and wish to avoid a humiliating visit to a pawn shop. Aitken claims the brand is even attracting hard-up City workers, keen to use their fine art collections and Aston Martins to pay outstanding bills.
According to Tim Moss, head of loans at Moneysupermarket.com, a further five or six such online pawnbroker brands are likely to launch over the coming 12 months.
'These businesses are basically capitalising on a decade of easy credit, which has made consumers asset-rich and cash-poor,' he says. 'Traditional pawn shops are here to stay, but brands such as Borro.com are trying to bring the industry away from backstreets.'
Moss adds that an influx of US-backed pawnbroker brands will move the industry toward more TV advertising, which may help it become more accepted. After all, the rise of online auction sites such as eBay has already legitimised the concept of consumers selling items online.
Elliott Moss, former managing director of Leagas Delaney and now director of business development at law firm Mishcon de Reya, cites the explosion of online betting sites as a fitting comparison. The latter, he points out, have attracted customers who would never have visited a high-street bookmaker such as William Hill or Ladbrokes.
'There will always be a need to do things more easily, and this shows the web in action,' he says. 'Moving away from the high street demonstrates a desire to be seen as legitimate. The web gives the consumer privacy, so there is no social shame. We all act in a way we think is acceptable to our peers.'
Borro.com, as well as more established high-street pawnbrokers such as Cash Converters and The Money Shop, is basing its ad campaigns in the tried-and-tested world of daytime multichannel TV. The practice has become the norm for countless insurance brands. RBS Insurance head of brand Chris Watney, who is in charge of the Churchill and Privilege brands, believes this method will serve the pawnbroker industry well.
'Using daytime TV for direct sales is an age-old trick, so I am not surprised they are going down that route,' he says. 'If you are able to build a brand around unlocking unused assets, you can gain respectability among your audience.'
Experts claim the biggest test for this rising sector will be how affluent consumers react once the recessionary gloom lifts, and whether pawnbrokers will once more come to rely upon footfall in backstreet branches. Mean-while, outfits such as Borro.com have a window of opportunity to convince the public they are genuinely credible brands.