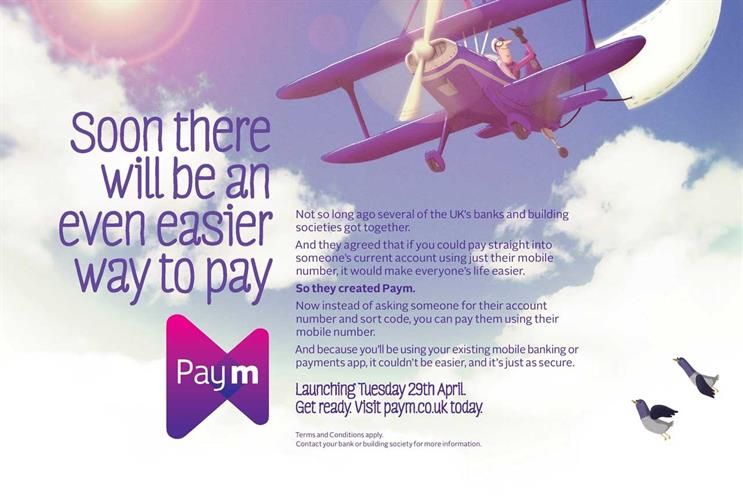 The work, created by Engine, breaks today with a print ad in the Metro. Additional work across outdoor, print, radio, online and social media – and the service itself – will launch on 29 April.
The ad uses illustrative designs to highlight the ease, trust and ubiquity of the new Paym service, which allows customers to send and receive payments using just a mobile number.
The work was created by illustrator James Lancett, who has devised an animated world with characters carrying out activities from the normal to the obscure, such as going to the cinema, riding a motorbike and wing-walking on a stunt plane.
The characters are pictured paying someone back using their mobile phones, highlighting the ease and speed of the new service.
A national radio competition will be launched on Global Radio's Capital network. There will also be an online and mobile site, which houses Vine and Instagram videos showing how to use the service. Social activity will use the hashtag #paymnow.
Engine is handling the central strategy and media planning with Partners Andrews Aldridge leading the creative. Engine's Calling Brands created the Paym brand identity and the7stars handled the media buying. Consolidated PR is handling PR activity.
At launch, customers of nine bank and building society brands – Bank of Scotland, Barclays, Cumberland Building Society, Danske Bank, Halifax, HSBC, Lloyds Bank, Santander and TSB – will be able to use Paym.