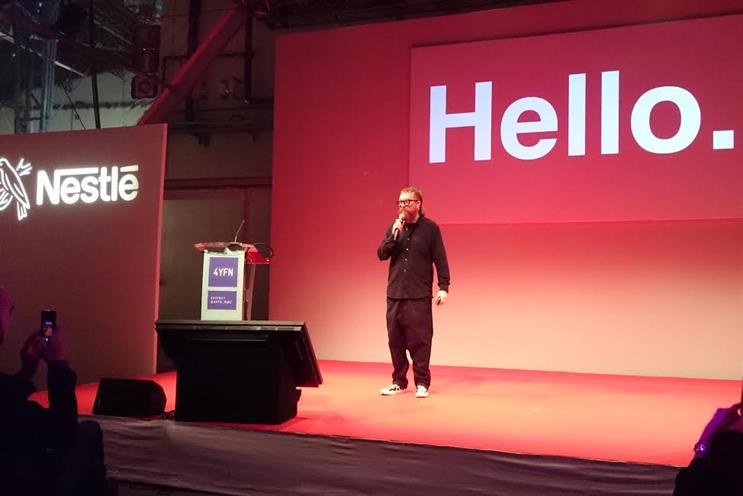 Harper Reed was speaking to an audience at 4YFN, the start-up spin-off of Mobile World Congress in Barcelona. Reed joined PayPal in 2015 after it acquired Reed's start-up, Modest, which developed "contextual commerce" tools, allowing, for example, Facebook Messenger users to order an Uber from within a chat.
He argued that marketers and developers were overly hung up on questions that never crossed the minds of consumers. "Are consumers thinking about 'which channel I'm using'?" he asked. "No. Are they thinking what device is going to provide me with the best experience? No, consumers don't do that."
Instead, he said, consumers operated in a "very simple world of 'see and buy'" and were "savvy but very busy and are spending their time like money." Brands need to understand this to thrive in an increasingly sophisticated mobile environment, he argued.
To do this, companies need to imagine being the user, Reed said – which also means empathising with them over the use of their data: "When you have a data point, there's always a person at the end of it. When you have a conversion rate, there were people that made that happen. We need to make sure we only store the data that actually matter."
Obama and the blockchain
Before founding Modest, Reed acted as chief technology officer for Barack Obama's 2012 reelection campaign. He made clear that his points about keeping empathy in technology also applied to the political climate. "We're seeing a reaction to people being displaced by technology," he said, alluding to the widespread automation that is rapidly replacing human jobs in a growing number of sectors.
"People are very frustrated. There's some xenophobia, but that stuff will edge itself out. But it's up to solve this problem. What we saw with Brexit, with Trump, is just the beginning of what happens when you displace people with technology."
Asked about the potential he saw in the blockchain, the technology behind Bitcoin, Reed was dismissive – because of the dubious reputation of the cryptocurrency.
"Whenever people say why don't we use the blockchain to do this, I think why don't we just use a database? When I think of blockchain I think of drugs, and I'm not really a drug user so I find it really boring." He suggested that the technology should be rebranded to remove it from the "dark market of Bitcoin".