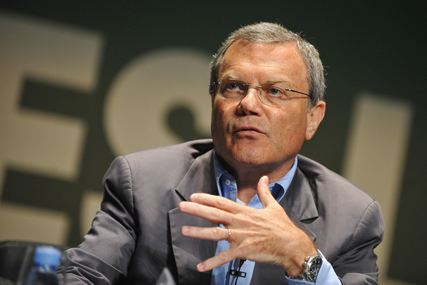 Talking to Media Week as News International's paywalls for The Times and The Sunday Times sites approach the end of their second month, adland's most influential figure appeared to fully support the endeavours.

"We think paywalls are essential because we think giving away content for free, particularly if consumers value that content, makes no sense." he said. "Consumers have to pay for content they value."
The man behind the group whose marcoms billings topped £20.3bn in the first six months of 2010 also believes advertisers will not be put off by the restricted potential reach of such gated sites.
He said: "Clients are interested in targeted and focused communications, and marketing messages surrounding those that are going to be more effective. So if targeting is more effective they will buy into it, if it's not they won't."
Sorrell added that, ultimately, "electorates and governments are going to have to decide at some point in time whether they want to subsidise traditional media".

The jury is still out as to whether News International's paywalls have been deemed a success by Rupert Murdoch and senior executives at the company.

A number of differing claims have been made surrounding user activity across the two sites since the paywalls were erected on 2 July.

The latest figures from ComScore found that users accessing thetimes.co.uk and thesundaytimes.co.uk have almost halved to 1.6 million since they were launched as standalone sites in May.

However, dwell time and page impressions also recorded by ComScore suggest the actual number of active users is far lower, presenting the possibility that people were only accessing the open homepage before moving on.

Last month, figures from Hitwise suggested two thirds of its online audience visits had been lost, while blogger and former Times media editor, Dan Sabbagh, claimed just 15,000 people had bought subscriptions in the first two weeks.

Subscriptions cost £1 for 24 hours' access or £2 for one week's access. However, seven-day subscribers to the print editions of The Times and The Sunday Times are entitled to a free website subscription.

A source at News International said an official statement about the paywalls would be made within the next 30 days.

Separately, WPP's leader also predicted there would be further consolidation throughout the media industry. By way of example, he believes News Corp's attempts to wholly own BSkyB will eventually come to pass, despite its last proposed offer of 700p per share yet to be recommended by the board, or granted regulatory approval.

He said: "We see consolidation as being important, which we're seeing with News Corp and BSkyB, which we think will go through."
Sorrell also called Richard Desmond's acquisition of Channel 5 "a big opportunity for him, if he can get the content right and the advertising surrounding it".
He added: "I definitely think [clients can be attracted to Five's cross-platform sell]. I think that's the way that the industry is going.
"You see it at News Corp in the case of The Wall Street Journal, you see it with somebody like Vincent Bolloré in Paris, you see it in a number of cases where people are using cross-media platforms and editorial departments to service different editorial from different media."
Meanwhile, as Facebook's global growth continues after becoming the social media leader in India for the first time, Sorrell cautioned advertisers to approach such opportunities with care and understanding.

He said: "One of the issues around social networking is that consumers want to communicate with one another and, once you invade their private space, they're somewhat sensitive about it. So it has to be done in a careful way."