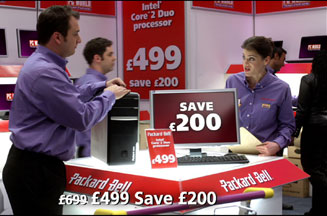 Heeding the advice of the Institute of Practitioners in Advertising (IPA), PC World has announced plans to launch its first brand-led, rather than price-led, campaign.
The IPA must be pleased that at least one brand has listened to its counsel. Yet coming from a company that has always emphasised price promotions, such a strategy shift seems perplexing - especially as a host of other brands have gone in the other direction.
Even Waitrose, traditionally known as a high-end supermarket, has waded into the price battle and launched Essentials, a range of everyday items at a lower price. The retailer is supporting it with a price-focused ad campaign that also flags up the breadth of the range. The push, which breaks this week, is a far cry from last year's generic 'picnic' TV ad.
PC World claims it planned its brand campaign before the recession began to bite, as part of a long-term strategy. As a precursor, the DSGi-owned company has already rolled out a programme of store upgrades and has invested in re-training its staff. It will continue to run price-focused ads, but the multi-media brand campaign represents its biggest single advertising investment to date.
PC World's many rivals, including Comet, may be focusing purely on price. However, PC World's marketing director, Niall O'Keefe, insists that there is more to a purchase than simply price for consumers.
'Price is clearly a key driver for people at the moment, but it always has been, and I certainly don't think it's the only consideration, even with the economy as it is,' he says.
'People still want the peace of mind that they're buying the right product for their individual needs and lifestyle, and for the right price. This requires good advice from people who know what they're talking about.'
Considering the strains that marketing departments are now placed under by commercial and sales teams, it is understandable that the wider focus has largely shifted to price.
O'Keefe, however, claims this does not apply to PC World. 'Our buyers and category teams are focused on sourcing the best products at the best price for our customers. The products and the prices we then promote are chosen based on their appeal to our customers,' he says.
Orit Peleg, shopper marketing planning director at OgilvyAction, is supportive of PC World's approach. She claims that those brands that have moved down the price-led route have done so in a knee-jerk reaction to the downturn.
'The recession kicked in, and all the retailers went into panic mode,' she says. 'Price took centre stage. It was a short-term reaction, rather than one that was about creating a long-term relationship with shoppers.'
Tesco is perhaps the most prominent example of taking this price-led option. It rushed to roll out its 'Britain's biggest discounter' strapline, but has recently changed tack by bringing back a Tesco family to support its relaunched Clubcard scheme. It does, however, continue to run separate ads on price comparison.
Difficult choice
Brand-led advertising is not always successful, though, as Holland & Barrett discovered. At the end of last year, the health food and supplements chain launched a campaign featuring the brand characters Mr Holland and Mr Barrett. The duo was recently dropped from its TV ads in a return to its traditional approach, which emphasises price deals.
Phil Geary, Holland & Barrett's director of trading, says that the brand's ad strategy of 'product, price, promotion' delivered higher returns.
'My overriding thought is that, considering the current economic climate, PC World is very brave,' he adds. 'We've been there and there was something fundamentally not engaging with the customer with our creative treatment.'
In the current climate, any change of strategy or fresh creative idea is an indication of a longer-term plan than simply maintaining footfall; it is an implicit reminder that eventually the recession will end.
Moreover, with the upcoming arrival of US behemoth Best Buy to the UK, PC World's long-term strategy of developing brand loyalty, could prove to be worth its multimillion-pound investment.