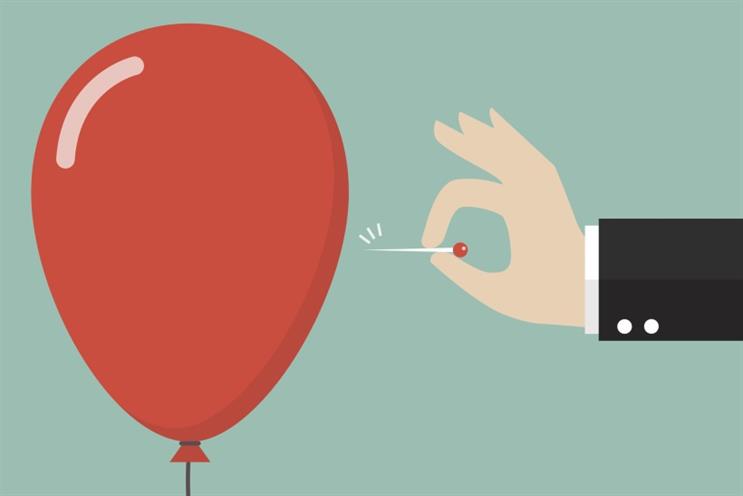 It had to happen eventually. "Peak TV," the era after the "Golden Age of Television" aptly named for its overwhelming amount of choices, has summited.
This year alone, more than 500 original scripted series (excluding children's programming) are expected to air. Of course, 400 original series—or 300—would still be overkill.
Once upon a time, a TV season consisted of approximately 100 to 150 scripted series on the broadcast networks. But with every outlet jumping on the programming bandwagon in recent years—particularly the digital streamers with their seemingly endless financial pockets—there was simply too much original scripted content. And it was just a matter of time before the bubble burst.
But it didn't happen overnight.
First, A&E announced it was abandoning any future original scripted programming following the conclusion of the "Psycho" prequel "Bates Motel," which limped along with a limited audience for five seasons. Earlier drama entries on A&E—"Those Who Kill," "The Returned" and "Unforgettable"—were all stalled at the starting gate.
Then WGN America followed the same path after axing both "Underground" and "Outsiders" and announcing a new direction. Peter Kern, president and CEO of the network's parent company Tribune Media, cited the typical reasons. "Resources will be reallocated," he said in a statement. "This move is designed to deliver additional value for our advertising and distribution partners and offer viewers more original content across our air."

No network ever admits defeat, of course, hence the "additional value" descriptor by Tribune Media. And now Netflix, where every series is perceived as a smashing hit despite any available data evidence to support that assumption, has swung the proverbial axe on dramas "Sense8" and "The Get Down."
But they're not the only series that Netflix canceled. The company nixed "Bloodline," Marco Polo," "Lilyhammer" and "Hemlock Grove" in years past. "The Get Down," however, marks the first time that the streaming service has terminated a scripted series after only one season, making Netflix appear like any other broadcaster.
In other words, no platform is immune to oversaturation. It's a growing challenge for any series—on any outlet—to find an audience with so much original scripted product vying for an audience. How did any broadcaster really benefit in this environment where the average individual consuming content could never completely keep up with all the choices?

"I'm glad Netflix is canceling shows," said Nick Grad, co-president of Original Programming for FX Networks and FX Productions, at the recent ATX Television Festival in Austin, Texas. "They can't have 10,000 shows. I think it brings them back in the ecosystem of where we're all trying to make the best shows and the best decisions."

To echo Grad, it's true that viewers no longer consume content via the traditional linear model, particularly those millennials that advertisers covet. The definition of a "hit," or a "miss," is far more complicated, especially in the era of social media where a series like the soon-to-conclude "Pretty Little Liars" on Freeform is considered a monster hit despite nothing extraordinary in terms of the total number of viewers.

But with so many shows clamoring for an audience—there are just so many hours in a day, after all—"Peak TV" felt like a race that could just not be completed.

"It always amazes me that these shows can break out in a world where there is so much TV content," said Jennifer Salke, co-president of NBC Entertainment, at the ATX Television Festival. "You just have to keep striving for something inspired, and you've got to have a good strategy. It's really hard. But good TV always will find a space."

With "Peak TV" finally on its descent, Salke's prediction will prove an easier proposition, at least in terms of broadcasting, as less can certainly equal more.